Ex-Arsenal forward Paul Mariner believes Arsene Wenger needs to sign AS Roma midfielder Daniele De Rossi to solve his defensive problems. The 30-year-old Italy international has also been linked with Premier League champions Manchester United, who have reportedly made a £10m offer for the player.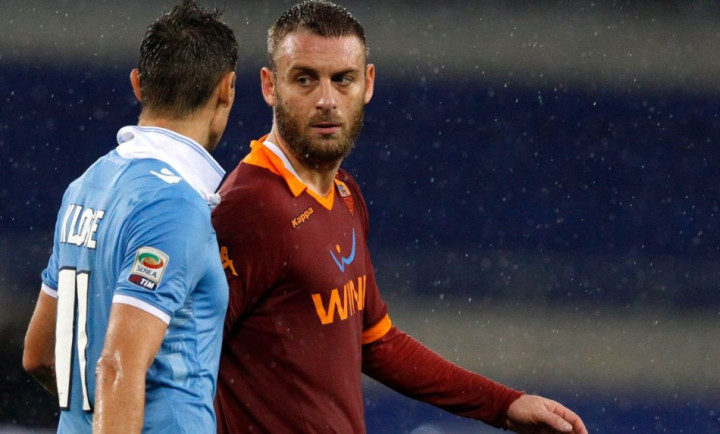 "I've been banging the drum for a while for Daniele De Rossi, because it seems like Roma have been selling players willy-nilly. He would be fantastic [at Arsenal]. His wages may be a problem and a transfer fee wouldn't be great, but that type of player would be brilliant," Mariner told talkSPORT.
However, any move for De Rossi is likely to be extremely complicated... and not just because United are interested in the player. The midfielder, who is a fan favourite at the Stadio Olimpico, is believed to be keen to stay and work with new manager Rudi Garcia. And reports from Italy say Roma will not sell their talisman unless he specifically asks to leave the Giallorossi.
Mariner believes De Rossi is exactly the kind of player Wenger needs to complete the first team at the Emirates - a hard-tackling central midfielder who can control the game and feed smaller and more mobile attacking midfielders like Santi Cazorla and Jack Wilshere.
Wenger has come under severe pressure this summer for failing to spend any of his reported £70m transfer fund. The only two signings at the north London club so far have been on free transfers, with France youth international Yaya Sanogo and former Arsenal midfielder Mathieu Flamini joining.
There have been reports of a massive £40m bid for in-demand Schalke 04 forward Julian Draxler but the Bundesliga club are believed to be holding out for a £60m fee, which will almost certainly deter Wenger... if he has not already decided against spending big money.
There are also reports of a bid for Ivory Coast international Salomon Kalou, as a possible alternative to injured German striker Lukas Podolski. The former Chelsea forward is with Ligue 1 club Lille OSC, for whom he enjoyed a superb 2011/12 campaign.
Kalou is expected to be available for £2.6m and £60,000 per week, which are figures more likely to suit the long-serving Arsenal manager, despite fans' demands to the contrary.