Arsenal have agreed terms with Swansea City captain and centre-back Ashley Williams. Goal.com believes the Welshman will move this summer and sign a £60,000 per week deal at the Emirates. It is understood that a fee between £8m and £10m has been discussed for the defender.
It is believed Arsene Wenger has made Williams a priority target for next season, amid speculation Belgian international Thomas Vermaelen will leave north London. The 27-year-old began the season well but fell out of form and favour in the final few weeks, leading to speculation he could be heading out of the club; Serie A club Napoli are the most recent side to have been linked to his signature.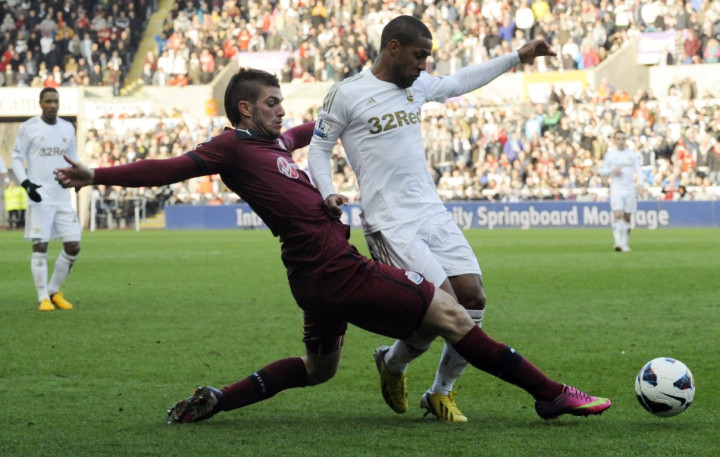 Williams' was also a target for Liverpool, with Brendan Rodgers keen to bring his former star to Anfield. However, given the player's age (he is 28 years old) and the transfer fee involved, the Reds' board reportedly voted to overrule their manager's interest in the player.
Should Williams move to London, he will likely start off the bench initially, with first choice pair Laurent Koscielny and Per Mertesacker in impressive form towards the end of this season. The French-German pair will retain their starting spot for the new season, unless there are injury problems or drastic tactical alternations.
Theo Walcott on Winning Trophies
Meanwhile, Arsenal forward Theo Walcott has stressed on the importance of winning trophies once again. The Gunners have not won a tournament since the FA Cup eight years ago and the former Southampton youngster, who was still with the Saints at the time, wants silverware this season.
Incidentally, in 2005 Walcott reached the final of the FA Youth Cup, with Southampton, losing 1-0 to Ipswich Town.
"It was testament to the spirit at Arsenal [claiming Champions League qualification]. There is a lot of belief. We didn't really take too much interest in the outside and knew the job that we had to do. We didn't want to let the fans down. Our next step is to win something, that's our next goal and that's got to happen," he said in an interview with talkSPORT.