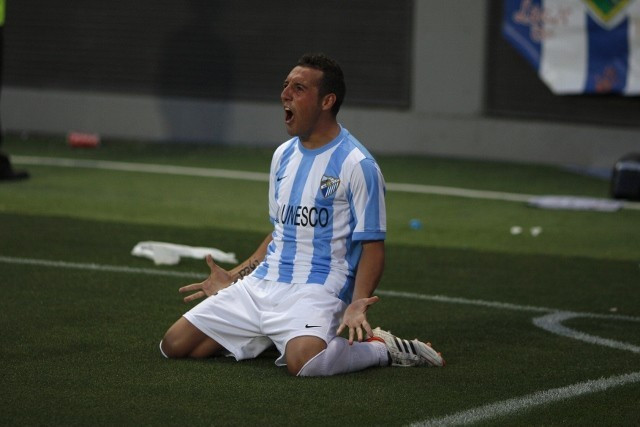 Malaga boss Manuel Pellegrini has warned Arsenal that the Gunners' chase of Spanish winger Santi Cazorla will not be an easy one. The La Liga club secured the services of the former Villarreal midfielder last summer, for a reported fee of £15m but ongoing financial concerns mean the club may have to sell some of their players to balance books.
The Gunners will look to profit from Malaga's financial straits and were earlier reported to have agreed a £16m deal for the 27 year old winger, who has expressed his desire to leave the Spanish club and join up with Arsene Wenger in London. However, Wenger has so far cooled talk of any move for the player and denied deals were already in place.
That should lend credence to Pellegrini's insistence that the club should not accept a knocked-down offer for their star. The former Real Madrid and Villarreal manager has overseen his side's qualification to the prestigious Champions League and will welcome the positive financial implications of that achievement.
"There is an offer, they say, for Santi Cazorla. To sell him for €20 million would be to give him away. I don't think the club intends to do that. I've talked a lot with [vice-president] Abdullah Ghubn and with the Sheikh and this would not be representative of their mentality," Sky Sports quoted Pellegrini as saying, and adding, "It would send out the wrong signal ahead of our Champions League campaign. If significant offers come in for players they are worthy of consideration, but I don't think Santi will be leaving for €20 million."
Meanwhile, French defender Laurent Koscielny, who recently signed a long-term contract with the club, has stated he never wanted to leave, despite speculation linking him to Barcelona. An earlier report in the Metro suggested the Catalans were interested in the 26 year old international's services following a good season with the Gunners. However, Arsenal fans will be pleased that their man has shown his loyalty to his club, by signing a contract till 2017.
"My idea was to extend to continue to stay at Arsenal. Personally, Barca did not contact me. Maybe they did speak to my agents. But I did not talk to them. They knew my position. I wanted to stay here to continue to develop with this club," ESPN quoted Koscielny as saying.