Arsenal have agreed terms for the transfer of Real Madrid striker Gonzalo Higuain, according to the Mirror. The Gunners are now believed to be waiting on final confirmation from the Santiago Bernabeu club.
The report indicates the Argentine international will sign on a club record £130,000 per week deal. His £22m move from the Spanish capital will also constitute a record for Arsenal.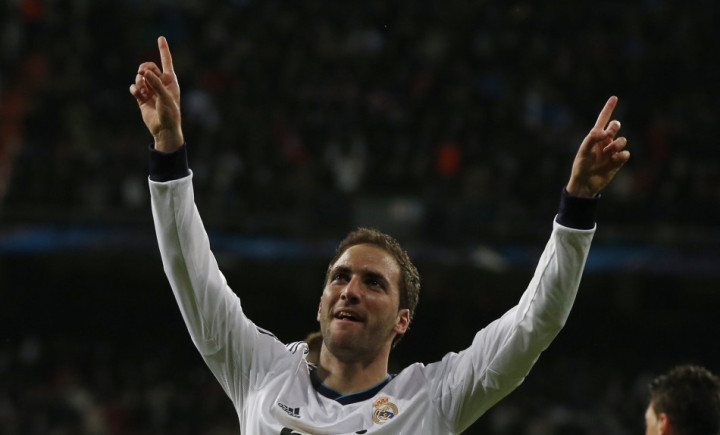 It is understood the nine-time European champions are waiting to confirm former AC Milan manager Carlo Ancelotti as their new coach, following the sack of Jose Mourinho earlier this summer. The present Paris St Germain (PSG) boss is likely to be consulted on Higuain's future, once his appointment is confirmed.
However, for Ancelotti to be confirmed, and, consequently, Higuain to be transferred, the Ligue 1 champions need to name a new manager as well. And this is proving to be the major obstacle in the move to bring Higuain to north London.
Tottenham boss Andre Villas-Boas has reportedly turned down an approach from the Parc des Princes side, while ex-Madrid and England man Fabio Capello has dismissed reports of a link.
Arsene Wenger remains the French club's long-term target but the long-serving Gunners' boss has repeatedly dismissed all links. However, with his contract set to expire in 2014, PSG could be tempted into waiting for 12 months before approaching him on a free. Of course, that means the task of appointing a manager right now becomes that much harder, with Ancelotti reportedly eager to move to Madrid.
For the moment though, Wenger is reportedly keen to introduce Higuain to the squad before next month's pre-season tour of Asia. The former River Plate youngster will need time to settle into his new club and strike up on-field partnerships with fellow forwards like Theo Walcott, Olivier Giroud and Lukas Podolski.
Higuain is likely to be one of several signings this summer, at least according to speculation. Wenger is expected to spend a significant portion of his £70m summer war chest in an effort to end a nearly decade-long trophy drought and has also been linked to Olympique Lyon midfielder Clement Grenier and also Manchester United striker Wayne Rooney. However, any move for Rooney will definitely be cancelled if Higuain does arrive.