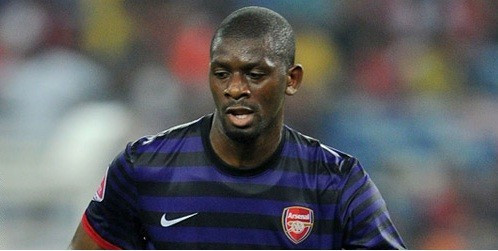 Arsenal midfielder Abou Diaby has promised top class performances this season, in an attempt to make up for all the time he has spent injured so far in his career. The Frenchman has been hugely influential for the Gunners in the opening matches of the season.
"I am 26 and I am aware that I am at a key moment in my career. That's why it was so important that I came back this season. Last year I told myself, 'I am injured again, I am nearly 26 and I am at a key turn. Either, I take the turn well and I succeed, either I don't take it and it will become very, very difficult'. I have revenge to take over the time I lost but I want to prove to myself that I can go higher. I (am) getting better but I can do more. Physically, I am only 70 per cent," he said.
The French international, who announced his return to the national team with the winning goal in Les Bleus' 1-0 World Cup qualifying win over Finland, spent only 98 minutes on the pitch during the 2011/12 season.
"It's been a long time. I am happy to be back and we are delighted to come away with the win. It has been a difficult year, but that is in the past and now I need to look to the future. The most important thing is to give my best in every match," the player said after the game.
Diaby also spoke about the fear that follows recovery from an injury and how he fought to overcome that feeling.
"Before, I was never apprehensive before a game after an injury. It was almost like I had never been injured. But last season, before the Fulham game, I was shaking on the bench because I was scared of getting injured again. It was incredible," he added.
Young Gunner Leaves on Loan
In other news, Arsenal youngster Chuks Aneke has joined League One side Crew Alexandra on a month-long loan. The 19-year-old, who scored the winner for Arsenal in a pre-season friendly against a Malaysia XI, is highly regarded by the Emirates coaching staff.