Arsenal are close to signing QPR goalkeeper Julio Cesar. Tutto Mercato Web believes the Brazil international will accept a two-year contract at the Emirates, with a salary of €4m per year. The 33-year-old is likely to replace Polish international Lukasz Fabianski in the first team.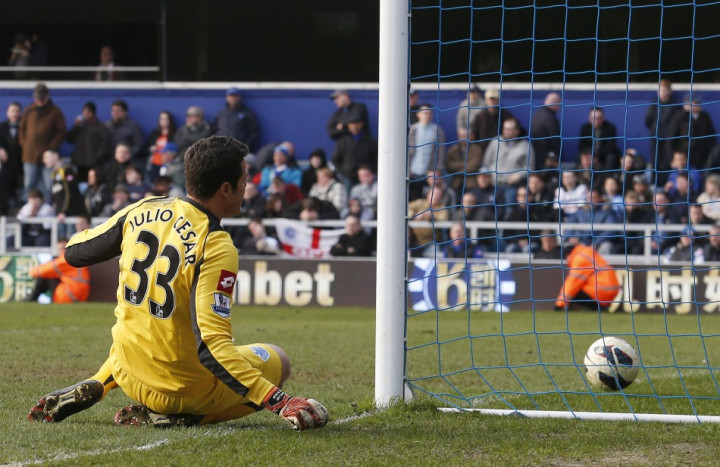 Cesar signed for the Hoops last summer and despite the Loftus Road club having a generally abysmal season, the former Inter Milan star has impressed between the sticks. Harry Redknapp earlier confirmed the club would release Cesar in the summer, as they could not afford his £70,000 per week wage in the Championship. The Brazilian, in turn, confirmed negotiations with five Premier League clubs, one of whom, it appears, are the Gunners.
Arsene Wenger is thought to want a top-class, experienced goalkeeper this summer, to keep pressure on first choice No 1 Wojciech Szczesny. The 23-year-old, also a Polish international, started the season reasonably but has displayed alarming levels of inconsistency. He was dropped after Spurs beat Arsenal 2-1 in March's north London derby and only returned after an injury to Fabianski.
Cesar was also linked with a return to Italy and the Serie A, with AC Milan believed to be interested. However, the goalkeeper ruled out leaving the Premier League and, in particular, London.
"There has been some talks with some clubs but nothing is certain. I'm not sure what my future holds yet, it's too early to talk about that. Some Italian clubs are interested, but I love London - it's a beautiful city. I want to remain in England because the football has impressed me a lot," he explained.
Aaron Ramsey on Next Season
Meanwhile, Welsh midfielder Aaron Ramsey has expressed relief at securing Champions League football for next season. The 22-year-old wants his team-mates to use a strong finish to the season as a springboard to challenge for titles in the 2013/14 season.
"We had a difficult season but we fought our way back to the Champions League. Tottenham gave us tough competition. We must now start planning for next season and I know Arsene (Wenger) will beef up the squad with quality signings. Hopefully we will be able to challenge for top honours come next season," Ramsey said, while on holiday in Kenya.