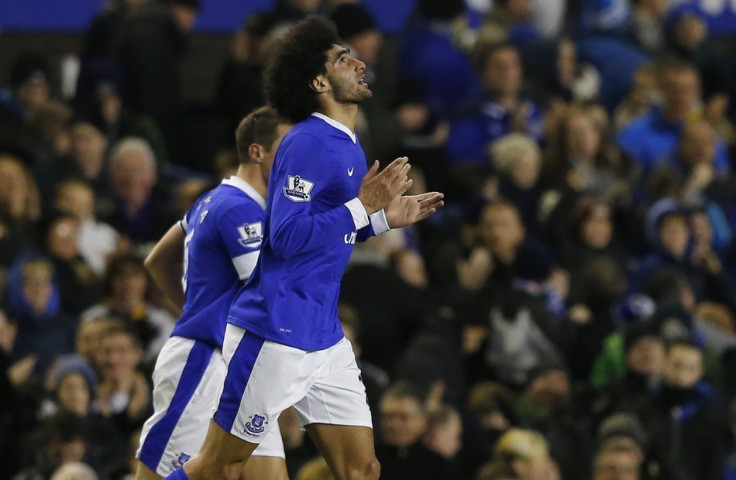 Everton star Marouane Fellaini is reportedly keen on joining Arsenal in the summer, according to the Daily Mail. The 25-year-old has been one of the outstanding players during David Moyes' last season with the Toffees, scoring 11 goals and registering five assists in 31 Premier League starts.
Fellaini is one of the top summer targets for Arsenal manager Arsene Wenger as the Frenchman is looking to strengthen the Gunners' squad for the new season. The Belgium international is currently on a weekly wage of £75,000 at Goodison Park.
The report claims midfielder is looking for a salary of £100,000 a week at the Emirates, which would see him, be on the same pay as that of current Arsenal players, Theo Walcott and Lukas Podolski.
Moyes played Fellaini in the attacking position during the last season, which has seen him score goals and create chances up front for Everton. However, the Belgian now wants to play in his natural position of the defensive midfielder, which can be fulfilled if he decides to make a switch to the Emirates.
Arsenal are in a need of a player in that position as the Gunner's current defensive midfielder, Abou Diaby has seen his appearances being restricted due to the injury concerns. The addition of Fellaini to the north London club's squad in the summer will strengthen their midfield and also bolster their squad.
However, Fellaini has a £22m release clause and including his wage demands could see the Gunners spend around £50m for his signature. The north London club are unwilling to match his wage demands, which could prevent him in joining Arsenal in the summer.
Meanwhile, Everton chairman Bill Kenwright had earlier admitted that the player is in no mood to leave his current employers, despite the recent rumors surrounding the Belgian.
"I really don't believe Marouane is thinking, 'am I going to be here?' I don't think that is in his head. You will always get other teams who admire and want to take your best players. That's normal and happens everywhere. It happens at Real Madrid, at Manchester United and Everton. So there's nothing we have to speak about," Kenwright said.