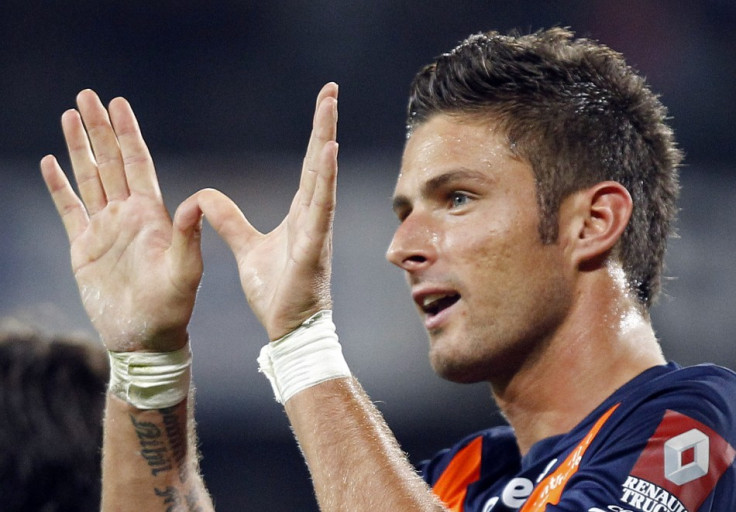 Olivier Giroud has confirmed that Bayern Munich are interested in signing him, with the Arsenal striker target continuing to star for Montpellier in Ligue 1.
So far this season, Giroud has scored 16 goals in 24 appearances. The 25 year old has been attracting interest from numerous clubs around Europe, with the Gunners being one of them.
In fact, Arsenal recruiter Gilles Grimandi revealed at the start of February that the side are keeping an eye on the striker, even though Marouane Chamakh and Gervinho were on their way back to the club after the Africa Cup of Nations.
"We look at a lot of interesting players, and we are following Giroud," he told Le 10 Sport.
"We're following his progress, it's impossible not to look at the way he's progressed in the last two years.
"That's one of the players that we're currently looking at, but there's also between 20-30 other players from Europe and South America that we're keeping an eye on."
And now Giroud has admitted that he is flattered by interest from Bayern Munich, with the sharp shooter's worth reportedly rising to around €9.5 million.
"I know that Bavaria is watching me and that's very flattering," he said, as reported by Bild.
"From the offensive perspective, the German game is very tempting. The strikers convey the impression that they have a lot of fun."
While Gervinho looks set to stay at Arsenal for the long haul, Chamakh has been vague in the past about where his future lies, with the striker continuing to get limited game time for the Gunners in the wake of Robin van Persie's form.
"My agents have had calls from other clubs, but I want to show what I can do in the next few months," he said in January.
"I'm tired of the rumours, because I only want to be focused on my work for Morocco. Personally, I have a lot more in my game and I want to demonstrate my level.
"Of course I want to play more, but it's very difficult for a forward at Arsenal. The level is very high, but that's the challenge that I was looking for."
With that in mind, Arsenal could be looking to make a bid for Giroud to keep the depth within their squad. But with Bayern to fight with, and Wenger not likely to go over budget on any player, if the price goes much higher than €9.5 million the Gunners could be out of the running.