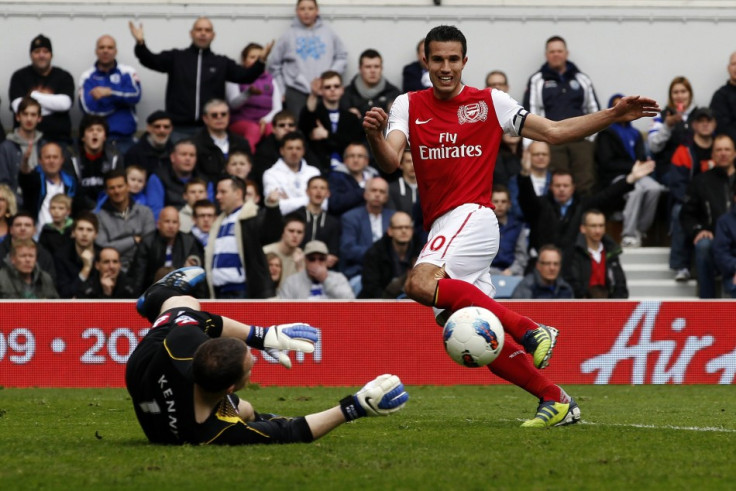 Arsenal skipper Robin van Persie, who is yet to decide his future at the Emirates, has hinted that he would leave the Emirates if the Gunners fail to qualify for the Champions League next season.
The Dutch striker, who is currently the top scorer in the Premier league, says that he will sit and discuss the future once Arsenal finish their final game against West Bromwich Albion.
"It doesn't matter if I score or not. I honestly don't care just as long as we win," the Sun quoted van Persie as saying in an interview.
The 28-year-old Dutch claims that the Gunners final game against West Brom is like a Cup final. Although, there is no trophy to be won, van Persie says that qualifying for next season's Champions League is a very big thing for the Gunners.
"Ask most people if they would swap the FA Cup or Carling Cup for a place in the Champions League next season and I'm sure they would," he added.
If Arsenal do win against the Baggies then they will make it to the European competition regardless of whether Newcastle and Tottenham win or lose in their respective matches.
If the Gunners somehow manage to end in the fourth place then their Champions League fate will depend on the result of this year's competition final between Chelsea and Bayern Munich.
"A win at The Hawthorns and there's nothing that Tottenham and Newcastle can do. A win for us and we will guarantee third and it is so important as fourth doesn't guarantee you anything. For if Chelsea win the Champions League they will automatically qualify for the competition again next year.Can you imagine that? Finishing fourth and then losing out to Chelsea?" he added.
Van Persie says that all the honours and awards this season will mean nothing to him if they do not end in the third position in the Premier League. He says that he is even willing to swap all his achievements this season for a win in the Gunners final Premier League game.
"All the goals I have scored this season, all the awards I have won - I would trade them all in an instant for us to win today.What's the point in achieving all that personal success if your team fails? Football is a team game and if my team fails then I have failed. The truth is I wouldn't have scored all those goals, won the awards without my team-mates. My success is a reflection of all the hard work and great play of my colleagues," he added.
Meanwhile, according to an earlier IBTimes UK report, Arsenal manager Arsene Wenger said that he will not be disappointed if the Gunners fail to make it to the Champions League next season.
The 62-year-ld Frenchman says that he will be happy to see the Gunners in the Europa League, whose matches, according to him, are "better than many Champions League games."