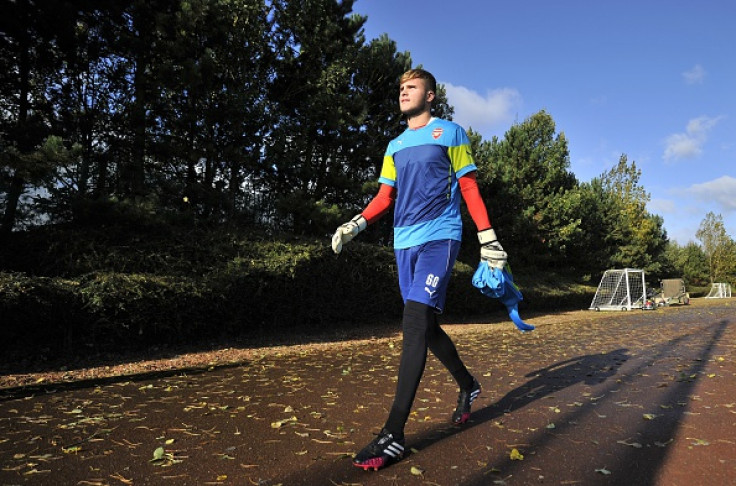 Arsenal have confirmed the departure of goalkeeper Ryan Huddart, who has joined Eastleigh FC on a season-long loan for the upcoming 2016/17 season. The 19-year-old was a regular for the Gunners' U18 and U21 sides, while also making the first-team bench during their Champions League group stage matches against Borussia Dortmund and Anderlecht.
"Young goalkeeper Ryan Huddart will join National League side Eastleigh FC on a season-long loan," a statement on Arsenal's official site reads.
The former England youth international is Eastleigh manager Chris Todd's ninth signing of the summer as he prepares for his first season in charge with the National League side. Huddart is unlikely to get a chance with the first-team next season with Petr Cech, David Ospina and Wojciech Szczesny ahead of him in the pecking order.
The Spitfires' CEO Mark Jewell was delighted after landing the Arsenal youngster and believes he will bring great professionalism following his time with the Gunners. The club's chief is keen to maintain a good relationship with the Gunners, hinting that they could be interested for more loan deals in the future.
Huddart was also happy at securing the loan deal and is looking forward to playing a part in helping the club secure promotion next season.
"We are extremely pleased to welcome Ryan to Eastleigh FC. Having met with him today, he is clearly a genuinely nice guy, but fiercely competitive. I know his presence at the club is going to raise the bar. Although he is a young man, he brings with him great professionalism due to the experience gained with his time at Arsenal FC," Jewell told Eastleigh's official site.
"I would like to thank Ryan's representatives, along with Arsenal's Technical Director Richard Law and company secretary David Miles, for making this loan possible. I will be doing everything possible to ensure relations between Eastleigh FC and Arsenal FC are to develop to their fullest potential," the Eastleigh Football Club's CEO added.
"I am really pleased to have joined Eastleigh on a season long loan. I know the club are ambitious and are trying to achieve promotion next season, therefore I am looking forward to the challenge and hoping to play my part," Huddart explained.