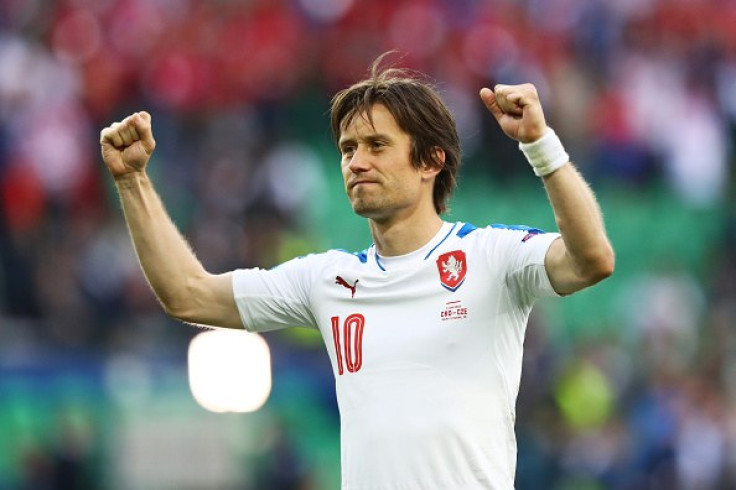 Czech Republic have suffered a major injury blow in the form of Tomas Rosicky, who is set to miss out against Turkey and probably the rest of the tournament with a hamstring injury he picked up in their 2-2 draw against Croatia. The midfielder bagged an assist as he led the Czechs to a brilliant comeback against Croatia and will now have to wait and see if he will be able to play any further part in the tournament.
The 35-year-old was released by Arsenal after 10 injury plagued years at the Emirates and the midfielder made his second start for the Czech team after missing the entirety of the league campaign with the Gunners through injury. However, he lasted 89 minutes and was taken off after it became clear that he could no longer take any further part in the game. Rosicky revealed that the injury was down to the fact that he had exerted himself too much and kept running despite having gone out of steam in the latter stages.
"I felt well, I knew we needed a point so I forced it even when I had run out of steam," said Rosicky, as quoted by SuperSport. "Unfortunately I paid for this."
"As you saw, I picked up the ball, I set out and got virtually knocked down — but nobody even touched me. It doesn't look good at all."
Cech was the other Arsenal player on the Czech Republic banks and made some very good saves to deny Croatia any more cushion. The Czechs play Turkey next and anything but a win there will all but end their hopes of progressing into the round of 16. Rosicky reiterated that he believes in the team but it would be too soon for him to return and that he would not play any part in the game.
"The boys are due to play a wonderful match in which everything will be at stake. I'm sure I won't be there," Rosicky added.