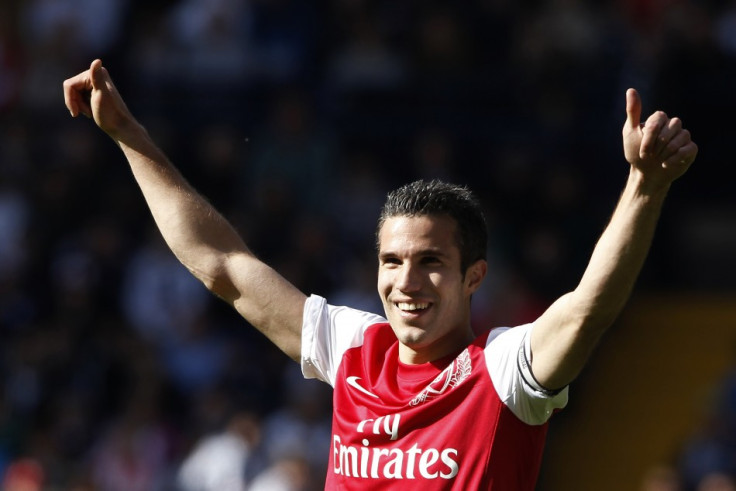 According to a report on Goal.com, Italian champions Juventus have backed out of the race to sign Arsenal forward Robin van Persie. The Italians were reportedly ready with a four year, £6mn per year offer.
The 28 year old forward, who was honoured with the Professional Footballers Association (PFA) and Football Writers Association (FWA) Player of the Year awards earlier this year, has still to confirm a contract extension at Arsenal. His present contract expires at the end of next season and his excellent form has drawn many suitors. He is expected to sit down and talk to Arsenal officials on Wednesday, to clarify his future at the club.
Rumours of van Persie's move to Juventus gathered steam after a report in the Metro suggested the player's agent, Kees Vos, met with club officials in a hotel on the outskirts of Turin. However, Juventus Sporting Director Fabio Paratici was quoted as saying he believed the player would go to one of the Manchester clubs should he leave the Gunners and also admitted the club could not match City's financial might. Juventus, meanwhile, have reportedly switched focus to Napoli striker Edinson Cavani, who is reportedly leaving the Italian club this summer.
Meanwhile, van Persie, earlier quoted as saying his Arsenal future depended on the Gunners qualifying for the Champions League, now seems to be in a dilemma after they ensure they would be playing in Europe next season.
"You never know but Arsenal is a massive club. Whatever happens, I'll always love this club,' said the 28-year-old. I have been playing here for eight years and I love this club. Whatever happens that will never change. We will sit down next week," van Persie said, according to a BBC report.
The Dutchman, who finished the season as the league's top scorer with 30 strikes, is valued at £25mn by Arsenal, according to a Mirror report.