Real Madrid striker Gonzalo Higuain has completed his transfer to Serie A side Napoli, in a deal Goal.com values at €40m.
The 25-year-old Argentina international is believed to have signed a five-year deal with the Stadio San Paolo club and will replace Uruguayan international Edinson Cavani, who signed for Ligue 1 champions Paris St Germain (PSG) for €63m.
Napoli president Aurelio de Laurentiis confirmed the switch via Twitter, posting: "This morning we signed the contract with Higuain." The 64-year-old film producer followed that with a photograph of Higuain signing the contract.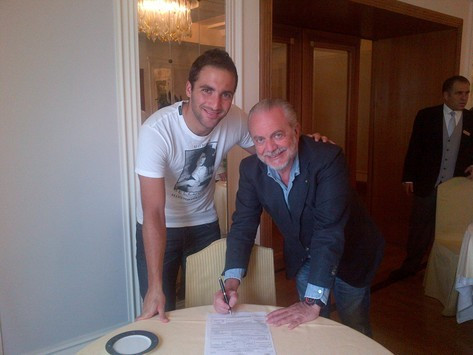 The news was backed by a statement on Madrid's official website, which reads:
"Real Madrid C. F. announces that Gonzalo Higuain has been transferred to Naples. The club would like to express their gratitude for his years of dedication and professionalism, and wishes him luck in this new step."
The former River Plate youngster's move to Italy will disappoint Arsenal fans, who were hoping to count the striker as the first genuinely high-profile signing at the Emirates in quite some time. Arsenal chiefs have given Arsene Wenger a £70m transfer budget this summer to break an eight-season trophy drought.
Talks between the Gunners and Higuain were believed to be at an advanced stage, with the player's father commenting in early July, "I will soon be able to watch my son play in the Premier League." The Guardian report said Higuain would sign a £23m (roughly €27m) deal and be given a £100,000 per week contract.
However, the combination of Madrid re-evaluating their transfer fee (the Santiago Bernabeu club wanted €37m) and Wenger focusing on Liverpool's Luis Suarez meant Napoli were given a free run at Higuain.
With money from Cavani's sale and a place to fill in the team, the Italians have concluded their negotiations very swiftly.
The bad news for Arsenal fans is Suarez remains as inaccessible as he was when the north London club first began bidding for the Uruguayan's services. Liverpool remain adamant that nothing less than £55m will persuade them to open talks, while Wenger has apparently capped his bid at £40m.
The result, therefore, is a stand-off between the two clubs, which shows no immediate sign of coming to a conclusion.