Arsenal will offer Newcastle United £20m for French midfielder Yohan Cabaye, according to the Mirror. The offer comes after an earlier bid of £10m was rejected by the Magpies last week.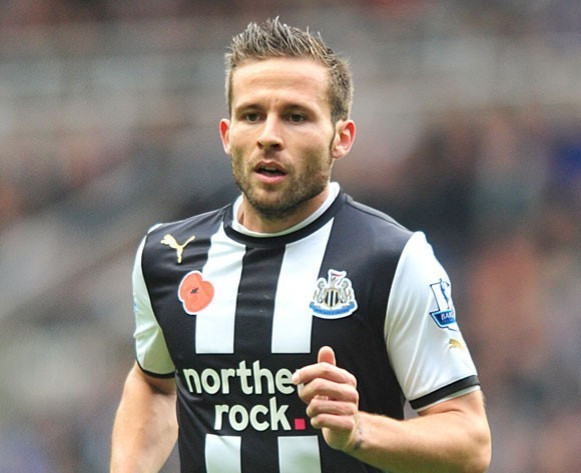 The 27-year-old has yet to appear in the Premier League this season and was left out of both opening games - Alan Pardew's men opened with a disastrous 0-4 defeat to Manchester City and held West Ham United to a goalless draw in their second fixture. The club faces Morecambe in a Capital One Cup fixture next; the game is scheduled for 28 August at the Globe Arena.
News of the Gunners' interest has reportedly pleased Cabaye, who is eager for a move to north London, particularly as the club will (barring a disastrous second leg performance) play in the Champions League this season. As for Wenger, the pressure to sign new players is growing steadily this summer, particularly since it is now very evident the first team does not have enough squad depth to last a full season.
Cabaye's potential move to Arsenal will open a place in the Magpies' midfield and Pardew is eager to resolve the situation as soon as possible. Newcastle have made only signing so far - France striker Loïc Remy joined them from relegated Queens Park Rangers on a season-long loan.
"It is quite simple - we need to resolve the situation. If it is a situation where he leaves the football club, we have got to be stronger. That's my aim when the window shuts. We need to get ourselves in a position where if he stays, great, and if he doesn't stay we need to get someone equally as good," Pardew explained.
Meanwhile, the Mirror has also linked Wenger to Stoke City goalkeeper Asmir Begovic. The Gunners presently have the Polish international duo of Wojciech Szczesny and Lukasz Fabianski and the former has performed well so far this season. However, the manager is understood to want a more experienced No 1 to keep his youngsters on their toes.
The report claims Arsenal are waiting on Valencia's reply after a bid for Vicente Guaita was made and are also tracking another St James's Park star - Tim Krul.