Arsenal have made one last bid to sign Barcelona striker David Villa, according to Goal.com. The 31-year-old has been the subject of much speculation in the Premier League, with the Gunners most often linked. Goal.com believes the bid for Villa is in the region of £11m and comes after encouragement from Villa's representatives. Wenger is ready to go up to £13.8m to sign the forward and will match his £110,000 per week deal from Spain.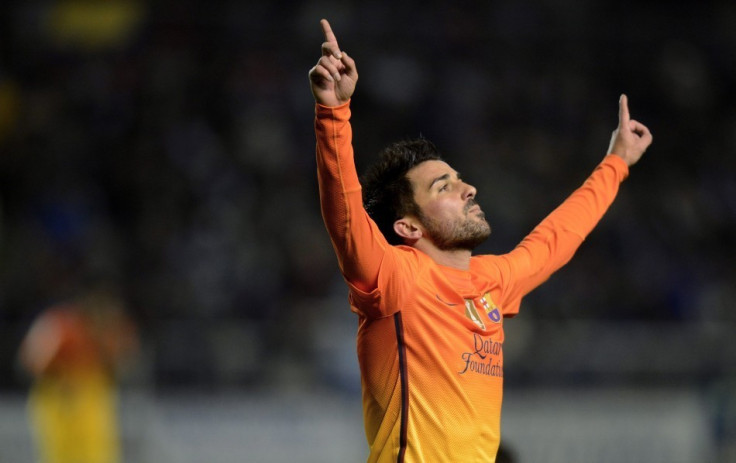 Villa, a World Cup and European Championship winner with Spain, has struggled to establish himself at the Camp Nou this season and was an unused substitute in Wednesday evening's 1-1 Copa del Rey semi-final game against arch-rivals Real Madrid. The forward is believed to be ready to move on from the Nou Camp but the Catalans are unwilling to let the ex-Valencia man leave in the middle of the season
Arsenal are believed to be counting on the fact the Catalans still owe them money from the Alex Song and Cesc Fabregas transfers and that this could help the two clubs work out a deal.
Barcelona, for their part, have publicly refused any possibility of a mid-season transfer. However, given Villa's obvious unhappiness, the number of options available to coach Tito Vilanova, and the fact Villa has only 18 months left on his contract with the club, the former Spanish and European champions may be willing to consider a transfer.
Arsenal do have French international Olivier Giroud (whose excellent goal-scoiring form has led ex-Arsenal midfielder Ray Parlour to support him over Villa), German striker Lukas Podolski and the 23-year-old Theo Walcott, whose conversion from winger to striker seems more complete with every match.
In addition, Arsenal do have 48 league goals to their credit so far this season, and only leaders Manchester United and Chelsea have more. The signing of another striker may not be critical, from a sporting perspective, but it could be a massive statement of intent from Wenger and the board... particularly to all those critics who have been calling for a marquee signing. And David Villa, even if he is 31, is certainly a marquee signing.