Real Madrid striker Gonzalo Higuain has reportedly signed a pre-contract deal with Arsenal and will join the Emirates club for approximately £19m. The Argentine international is expected to sign a five-year contract. Spanish website Sport.es believes the deal will depend on the Gunners' qualifying for the Champions League next season.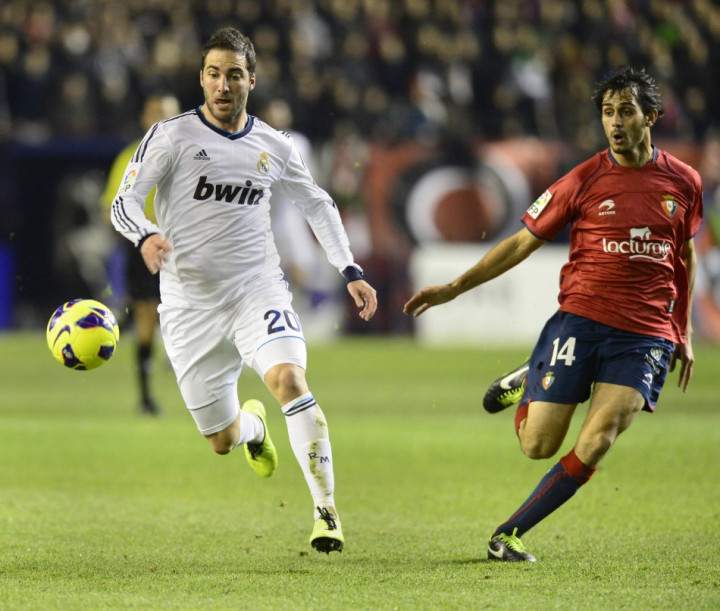 In addition to Arsenal, both Tottenham and Juventus have also been linked with the 25-year-old. Spanish newspaper AS believes a deal could still be struck between the Serie A champions and Higuain, with representatives and club officials set to meet on 20 May.
The general feeling in Spain, though, is one that says Higuain will leave because he feels undervalued and disrespected by the Santiago Bernabeu club. Higuain signed a six-year contract in 2010 and consistent performances for the Spanish giants - he has over 100 league goals since signing in 2007 - led to talk of an improved deal.
Last summer, an agreement to raise his wages from €3.5m per year to €4.5m was verbally made but no contract was offered. That is believed to have disappointed the forward, with Sport.es claiming the club have not made any attempt to honour that agreement.
As a result of these issues, it is now almost certain Higuain will leave Madrid, with club's general manager, Jose Angel Sanchez, confirming a summer transfer is likely.
Contract disagreements aside, Higuain has had a good season so far. The South American shares the central striker's role with France international Karim Benzema, who is usually favoured for the bigger games. Nevertheless, in the 25 La Liga games he has played, Higuain has scored 13 times and created five goals.
Arsenal and Juventus aside, Spurs have also been linked with the striker and it could well boil down to which north London club qualifies for the Champions League next season, assuming he makes no move to Italy; the two are separated by a point as we head into the final two games of the 2012/13 season.
The Ox on Sir Alex Ferguson
Meanwhile, Arsenal midfielder Alex Oxlade-Chamberlain has hailed outgoing Manchester United boss Sir Alex Ferguson for his 26 years of service to the club. The 71-year-old Scot confirmed his retirement midweek and will be replaced by Everton manager David Moyes.
"I think the main thing that always crops up [when we talk] is that he is such a winner. I know he's hard on his players and he gets the best out of them, and I think you can see that with Manchester United being a top side for so long. From what I hear, he's hungrier than anyone, even at his age. That gets the best out of players," he told www.arsenal.com.