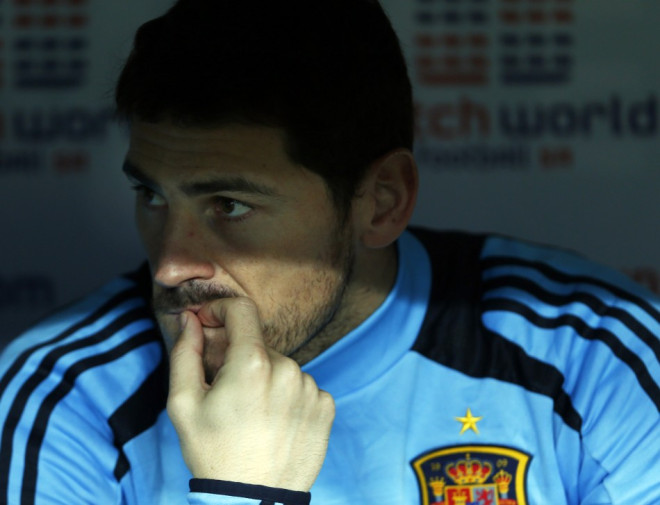 Real Madrid goalkeeper Iker Casillas has reiterated his desire to stay at Real Madrid until he is 40, according to Spanish reports.
The 32-year-old World Cup winner has been with Los Blancos since 1990, but has been forced to play second fiddle in the league to Diego Lopez over the last 18 months.
Reports had claimed the Spanish international could move to Arsenal or Manchester City at the end of the season. But despite all the speculation, the captain has revealed his desire to remain at Real.
Casillas was asked in an interview with a Spanish radio station about his future at the club and he said: "I can play up to 40.
"If a goalkeeper is careful they can reach that age. I wish I could play at Real until I am 40, but there will be a moment where it is not possible. When I finish my contract, I will then consider a move.
"I want to keep winning titles. It is wonderful to have the chance to win trophies and then enjoy it with the fans," he added.
About his fight with Diego Lopez for a place in the starting line-up, Casillas responded: "It is important to try to win back your place in the side; you have to continue fighting and aspire to win more. I am an ambitious guy and I always want to play while respecting my fellow team mates," he told Melodia FM.
Casillas produced an excellent performance last Wednesday against Schalke in the Champions League, while Diego Lopez's error-strewn display against Atletico Madrid has sparked a flurry of rumours about his immediate future.
Now Real Madrid fans ask for Iker Casillas to return as starter also in La Liga. So that, Diego could lose his position, doing the biggest favour to Casillas, who had any hope of regaining his place in the starting line-up of Carlo Ancelotti.