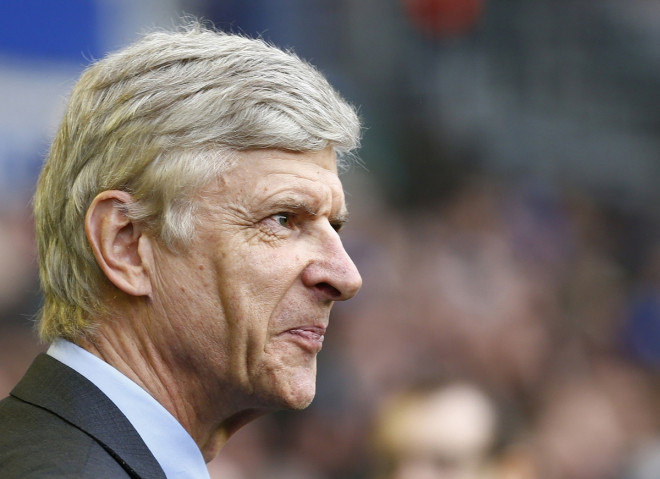 9:42: After a rather reserved first half, Arsenal sprung into life in the second to secure a well-earned victory at the Emirates this evening through a brace from Lukas Podolski and one from Olivier Giroud following Matt Jarvis' opener. Those three points see Arsene Wenger's side move back into fourth place for at least 24 hours, with Everton, who now sit a point behind the Gunners, hosting Crystal Palace on Wednesday evening.
FULL TIME
Arsenal 3-1 West Ham United
9:35: Vaz Te hasn't had the greatest evening since coming on. Nocerino does well to take the ball in his stride as he cuts inside the box and cannons a strike on goal that bounces of Vaz Te's back to safety. Not really sure where he was running in the first place.
9:33: Four minutes of time added on.
9:32: Jenkinson gallops down the right flank and immediately but his cross his dug out and cleared after reaching the byline. At the other end Carlton Cole does well to hold of Sagna and play the ball back to Vaz Te, but his delivery into the box is... well, dreadful.
9:30: Santi Cazorla's impressive evening has come to an end as Carl Jenkinson enters the fray. Just a couple of minutes of normal time remaining.
9:28: West Ham win a free kick about 35 yards out to the right of goal and it's a handy delivery from Nocerino as Cole leaps to connect with a firm header than is steered just over the bar.
9:26: Allardyce's uses his remaining sub, introducing Carlton Cole for Carroll.
9:23: Ricardo Vaz Te and Joe Cole are on for West Ham, replacing Downing and Jarvis.
9:20: Job done for Arsenal as Podolski caps an excellent move. The ball is neatly worked out to Giroud occupying space on the left and without taking a touch, lofts a ball to Aaron Ramsey on the edge of the area. The Welshman directs a beautifully cushioned header into the path of Podolski who lashes into the roof of the net.
Instant impact from Ramsey, that was exquisite improvisation from him.
Goal! Arsenal 3-1 West Ham (Lukas Podolski, 77)
9:18: Giroud cuts infield impressively, shrugging his marker out of the way before leaving the ball at the feet of Ramsey. The Welshman takes aim from 25 yards out but it's never troubling Adrian.
9:16: West Ham's delivery into the box has been dire this half; Mark Noble is the offender this time as his free kick flies over the heads of his teammates and Arsenal have possession back.
9:14: Aaron Ramsey comes on, replacing Tomas Rosicky.
9:12: Armero this time tries his luck with a cross from deep. Carroll leaps a good 12 yards out from goal in an attempt to embarrass Szczesny but he mistimed his leap and the header trickles wide.
9:09: Arsenal are firmly in control of this contest now but West Ham are still providing the occasional threat. This one comes froma deep cross from Nocerino onto the bonce of Carroll but he's can't get enough direction onto his header.
9:06: Close from Cazorla! West Ham are caught up field and the home side spring a counter. Rosicky swivels and frees Cazorla, but his ball forces the Spaniard wide. With three teammates advancing inside the area Cazorla cuts inside across two defenders and fires a vicious effort across goal that just evades Adrian's far post. Great effort.
9:04: Podolski steps over the free kick and bends a rocket over the wall but Adrian is well positioned to palm it to safety.
9:02: A neat passge of play from Arsenal is ended as Armero clatters into Giroud on the edge of the West Ham box. Diame appeals and is booked for his dissent.
9:00: West Ham respond by lumping a long ball of their own into the Arsenal area but the whistle is blown when Mertesacker is down following an aerial challenge with Diame. He's soon back up on his feet, however.
8:58: Brilliant from Giroud! Vermaelen arrows a long ball in from deep that falls to Giroud who has peeled off his marker in a congested penalty box. The Frenchman's first touch is sublime; taking all the pace of the ball before slamming a neat finish through the legs of Adrian. Typical long-ball football from Arsenal, there.
Goal! Arsenal 2-1 West Ham (Olivier Giroud, 54)
8:55: A deflected Downing cross falls infield to Nocerino who lifts a clever ball into the six yard area, but there's just too much on it for Carroll and Mertesacker cleans up.
8:53: Winston Reid goes down and looks to be in some pain after sliding interception but eventually gets to his feet, albeit with a grimace plastered across his face.
8:51: Rosicky looks to slide a fall in field but a poor touch lets him down and West Ham advance. It's Diame again who carries the ball forward, easily side stepping Arteta before firing a poor shot high and wide of Szczesny's goal.
8:48: Diame picks up possession in his own half and strolls into space down the right. He frees Downing who cuts inside onto his left foot but his low effort is wide of the near post.
8:46: And Arsenal get us started for the second half. A draw won't be good enough for the Gunners this evening sitting two points behind Everton, who play Crystal Palace at home tomorrow.
HALF TIME - Arsenal 1-1 West Ham
8:32: Arsenal are looking for a swift double here as Adrian does well to get a hand on Giroud's effort.
8:29: Arsenal equalise! A Gunners throw on the right flank is hacked away straight into the path of Santi Cazorla. The Spaniard, slides an excellent ball down the inside left channel that Podolski controls instantly in the box before emphatically slamming into the bottom corner.
Goal! Arsenal 1-1 West Ham (Lukas Podolski, 43)
8:26: West Ham have the lead! Demel knocks a ball down the right flank that Nocerino bursts onto. Kallstrom fails to track the Italian as he advances to the byline and shoots for goa. It's blocked but his dinked cross on the follow up finds it's way onto the head of Jarvis, who nods into the bottom corner.
Goal! Arsenal 0-1 West Ham (Matt Jarvis, 39)
8:21: Sagna's heavy touch suddenly gives West Ham an opening down the left as Diame pings a ball through for Jarvis. The West Ham winger cuts inside the box with Sagna now back applying pressure but his ball into the feet (!) of Carroll is hacked clear by Arteta.
8:17: That chance has woken Arsenal up. Rosicky again looks for Giroud who makes a clever run through the middle of the West Ham defence. His teammate finds him but the Frenchman can't take the ball in his stride and the chance is gone.
8:15: Great chance for Giroud! West Ham loose possession in the middle of the park to Cazorla who advances and slips a cute ball inbetween Tomkins and Reid. The Frenchman may have been marginally offside but there is no whistle. There's no goal either as Giroud attempts a cute flick around Adrian, but the Spaniard reads well and blocks. It's a decent save, but the Arsenal striker should have done a lot better
8:12: Bit of sustained possession results in Rosicky flicking the ball out to Podolski on the left who lifts a high one into the area for Giroud. The Frenchman can'r reach it however and Guy Demel looks to have read the resulting bounce well, but the presence of Rosicky forces him to lash the ball clear.
8:10: Arsenal respond as Rosicky - who been the Gunners' most lively player so far - neatly turns his man before slipping the ball into Giroud. The Frenchman is a bit slow to react however and Almero deals with it.
8:09: Lot's of pressure on West Ham as a lethargic Arsenal struggle to match the energy of the visitors so far. After a couple of neat moves down the left they swich play and Nocerino is freed down the inside right flank at pace. As he approaches the by line the cross is swung in but it bypasses his teammates camped in the Gunners' six yard area.
8:05: A ball is swung into the Arsenal box, inevitably into the area occupied by Andy Carroll. He gets a slight leap on Vermaelen but the Belgian does well to clear. From the resulting corner the ball falls for Diame outside the six yard area but on the turn he lashes his effort well over the bar. Should have done a lot better with that.
8:04: Penalty shout for West Ham. Matt Jarvis chases down a stray ball in the Arsenal box and is just caught by a wreckless hack from Sagna. Jarvis stumbles but stays on his feet and works a cross in but Vermaelen makes the clearance. Had he gone down he would have probably got a penalty.
8:02: Rosicky is shown a yellow for a cynical one on Armero.
8:00: Podolski is picked out on the left flank after a surging run from Rosicky and the German flashes an inviting cross into the box. Giroud is ahead of his marker but he can't connect with the cross from six yards out and the chance is gone.
7:59: Arsenal have a free kick on the right that Tomkins can only head into the air. The ball falls to Kallstrom who shapes to shoot but his eventual effort is fired into a crowd of bodies. Podolski is on the end of it, but he's offside.
7:56: Rosicky breaks but there's not many options ahead of him as he approaches the final third. Santi Cazorla eventually emerges on the opposite flank cutting inside, but Rosicky's cross is well intercepted by Tomkins on the edge of his own area.
7:54: Arsenal have taken the interesting approach of not tracking a single one of Diame's runs through their defence yet. I don't think it's going to catch on. Diame meanders into space again and floats another handy looking cross into the six yard area but Carroll can't get his head on it.
7:52: From a throw in West Ham work the ball down the left hand channel where Diame is suddenly given the space to wander in to. He latches on to Armero's throw and lofts a cross across the box. Nocerino follows it up from a tight angle but his effort on goal is blocked. Good start from the away side.
7:50: Mohamed Diame, playing in his preferred central position, shows exactly why he prefers it there as he does well to weave past his marker Kallstrom into the Arsenal box. He opens his body up to swing a shot towards goal, but it's well blocked my Mertesacker.
7:46: West Ham get us started at the Emirates and Olivier Giroud is immediately send scampering towards the byline but Demel does well to snuff the early attack out. Cazorla swings the resulting corner in which eventually falls to Rosicky but his half volley is easy for Adrian in the West Ham goal.
7:41: Both teams are on their way out from the tunnel and we will have a minute of silence for the 25th Anniversary of the Hillsborough Disaster.
7:34: Sam Allaryce and his side got a well earned point at Stamford Bridge earlier in this season and he has his eye on another at the Emirates tonight.
If we get a point I will be absolutely delighted. We know how difficult it is.
"We have to perform to our best. It's a local derby and our fans want to see us perform as we did against Liverpool and Sunderland."
LINE UPS
Arsenal: Szczesny, Sagna, Mertesacker, Koscielny, Vermaelen, Arteta, Kallstrom, Rosicky, Cazorla, Podolski, Giroud
Subs: Oxlade-Chamberlain, Ramsey, Fabianski, Sanogo, Jenkinson, Akpom, Bellerin.
West Ham: Adrian, Demel, Tomkins, Reid, Armero, Nocerino, Noble, Jarvis, Diame, Downing, Carroll
Subs: McCartney, Vaz Te, Taylor, Jaaskelainen, Carlton Cole, Joe Cole, Johnson.
7:05: Arsenal's capitulation has seen them surrender their 14 point lead over Everton in the space of seven weeks. They are now two points behind the Toffees, but he Gunners do look to have the easier run in with both Manchester clubs visiting Goodison Park during the season run-in.
BREAKING: Laurent Koscielny returns to Arsenal's starting XI along with Olivier Giroud. Kim Kallstrom to make first start while Aaron Ramsey and Alex Oxlade-Chamberalin drop to the bench.
TEAM NEWS
#Arsenal team to play West Ham: Szczesny, Sagna, Mertesacker, Koscielny, Vermaelen, Arteta, Rosicky, Kallstrom, Cazorla, Podolski, Giroud

— Arsenal FC (@Arsenal) April 15, 2014
TEAMS: #WHUFC Adrian, Reid, Tomkins, Jarvis, Armero, Carroll, Noble, Demel, Diame, Downing, Nocerino

— West Ham United FC (@whufc_official) April 15, 2014
6:55: A rested West Ham enter tonight's game having won two out of their last three games - but you wouldn't have guessed that from the reaction Sam Allardyce and his side have been on the receiving end of. The Hammers sit 11th in the league seven points off the bottom three which should be enough to see them avoid being sucked into a relegation scrap, but a couple more points would help put those concerns to bed.
6:51: Arsene Wenger indicated in a press conference earlier this week that he has concerns over the fitness of Aaron Ramsey and Alex Oxlade-Chamberlain. With Jack Wilshere only just returning to training, Tomas Rosicky a doubt and Mathieu Flamini suspended, Kim Kallstrom could be handed his first Arsenal start this evening.
6:48:Arsenal slugged it out with Wigan Athletic on Saturday for two hours before Lukasz Fabianski's heroics in their penalty shootout. West Ham meanwhile enter having enjoyed a weekend off and a nine day break since their 2-1 defeat to Liverpool.
Fatigue often becomes a problem for clubs at this stage of the season but Olivier Giroud insists the Gunners will enter tonight's contest relatively fresh.
It is OK," he said. "In the last weeks, we played just once in the week so we have had a good rest.
We have a great opportunity to write a really big page of Arsenal's history, to qualify for the Champions League and to win the FA Cup final. It will be an exciting finish.
We need to keep the good things we did against Wigan and, even if we are going to be tired, I think it is really good for our heads to win the semi-final." [via Arsenal.com]
6:46: While the Gunners were busy securing their place in the FA Cup final, Everton moved into fourth place in the Premier League at their expense on Saturday afternoon. A win tonight over the Hammers will see Arsene Wenger's side move back into the final Champions League space - but will slip out of it again should Everton beat Crystal Palace on Wednesday. Expect a few more twists and turns in this battle for fourth.
6:45: Good evening and welcome to IB Times UK's LIVE coverage of Arsenal v West Ham United. Stick with us for all your team news as it breaks.