From the moment they first step foot on their vessel, sailors are implored to 'beware the following wave' at all costs. Travelling with a following sea has the greatest potential for disaster, with the wave capable of overcoming the sailor's boat should their speed drop too low.
Steering power is also reduced by following seas and conservative use of the throttle controls is critical. Such is the rocky nature of Arsenal's lurch towards Champions League football that Arsene Wenger would be ill-advised to ignore conditions behind his own side in the Premier League table.
Dropped points at Wigan and Chelsea have allowed Newcastle to eye a potential third-placed finish, with the security of fourth-place no longer assured following Chelsea's heroics on Tuesday night.
And with just three points separating the two sides Arsenal still have some work to do in the final three league games to be sure of third place ahead of Newcastle, starting at Stoke this weekend.
Nevertheless, to remain in contention at this stage represents a remarkable achievement given Arsenal's dismal start to the season, which saw them slide to 17th after four defeats in their opening seven games.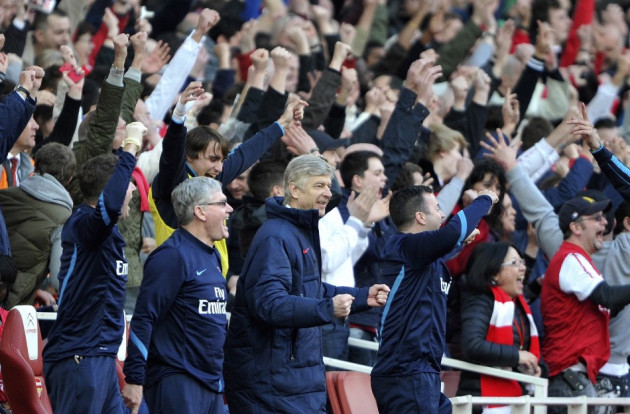 A similar slump in January saw Wenger's side slip out of contention for a Champions League place before a run of seven straight wins saw them regain ground on the top four. And a philosophical Arsenal manager accepts they are fortunate to be in the position of qualifying for Europe next season.
"Stoke have played better than in years before. Their campaign in the Premier League has been less spectacular because they have played well in the Europa League and FA Cup," said Wenger at his pre-match press conference on Friday.
"The problem for us was in the middle of the season - December, January. We had four fullbacks out. We suffered with ankle injuries this season. We don't know why.
"We are ready to win tomorrow. We have to combat them in the air. With Crouch up front, we can't forget to put the ball down and play our game. They have the second best defence in the league. It's difficult to score against them."
Arsenal have been hit by injuries in the past couple of games, with Theo Walcott joining Mikel Arteta on the sidelines after limping out of last Saturday's goalless draw against Chelsea because of a hamstring injury.
Wenger confirmed the England winger would not feature against Stoke this weekend but he could be back in time for Arsenal's final Premier League game on 13 May. But Yossi Benayoun returns to the squad, while Abou Diaby and Tomas Rosicky face late fitness tests.
Wenger refused to be drawn on speculation concerning Robin van Persie's future but said he remains hopeful of finalising a new deal for his captain this summer after he picked up the PFA player of the year at the weekend.
"He has had an exceptional year. He scored goals and was a provider. He was not only a goalscorer, he provided assists. He was a fighter.
"He has added that combative side to his game," said Wenger.
"He has grown mentally from the young player he was when he arrived. He has grown into a leader now, on and off the pitch.
"I am confident he will stay. He is not free at the end of the season, he has one year left on his contract."
Still, it's worth considering the clubs in Arsenal's wake, with Newcastle, Chelsea and Tottenham poised to overwhelm the Gunners should they fail at the Britannia Stadium on Saturday.