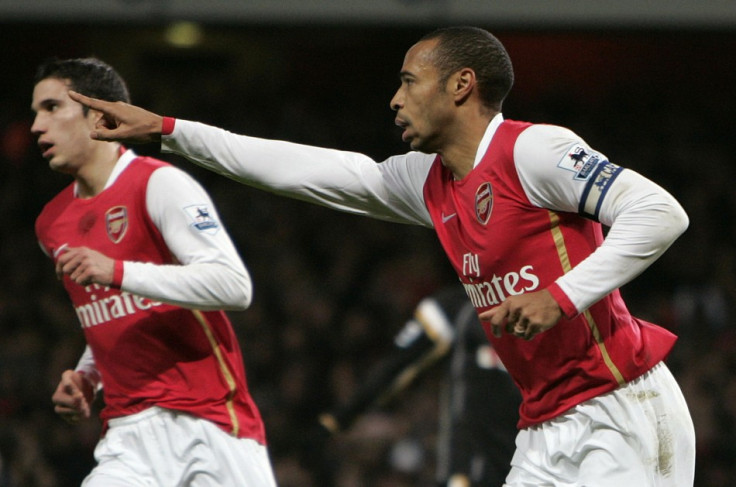 Arsene Wenger believes that both Robin van Persie and Thierry Henry will have extra motivations to score against AC Milan tonight, with the pair currently harbouring personal goals to show they can shine on the Champions League stage.
Van Persie was sent off in last season's Champions League last 16 match up with Barcelona for a particularly controversial red card, and Arsenal's advantage in the match was taken away, resulting in the Catalan giants moving through to the quarter final.
And Wenger believes that the prolific goal scorer will be aiming to right the wrongs of his last campaign, with Inter Milan firmly in his sights.
"Yes, I believe that [game at Barcelona] was hugely frustrating," he told the official Arsenal website. "I believe as well when he was sent off that he didn't deserve to be.
"It was also a big frustration as he wasn't prepared to play that game - everybody said he could not play because of his knee problem. I decided very late to play him. He had to dig deep as well maybe to play the game. But this year he is in a much better condition."
Van Persie has become an integral member of the Arsenal squad, and the Holland international will be hoping to keep up his goal scoring magic that has brought him to to equal Lionel Messi's league record this season excluding penalties.
But van Persie won't be the only goalscorer available for Arsenal in the Champions League tie, with Thierry Henry preparing to sign off from his two month loan spell with the Gunners before heading back to the USA.
And Wenger believes that the Frenchman also has a point to prove tonight, after scoring a hat-trick in arguably one of his best performances for the north London club in 2003 at San Siro.
"He left top-level European football because he was concerned about knee tendon problems but he is in very good shape," Wenger explained to Sky Sports.
"Yes it was a dilemma including him in my Champions League squad for just one match as I had to leave someone else out.
"But I thought it was worth it - and he can prove me right now.
"The 5-1 win in the San Siro was one of Thierry's best displays for Arsenal, although the best goal he scored was when we won away to Real Madrid.
"To resist the defenders and finish the way he did, you need everything - calmness, strength, power and technique.
"He combined it all in that goal and he can still deliver that."
Arsenal's Champions League first leg with Milan will be Henry's last game for the club, before he goes back to New York to prepare for the start of the MLS season.