Arsenal vs Barcelona: Arsene Wenger admits lamenting failure to sign Luis Suarez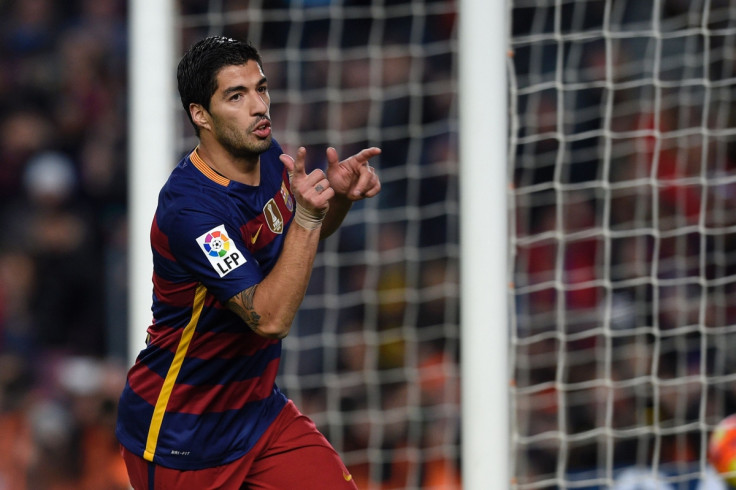 Arsenal manager Arsene Wenger admits he used to consider what life would have been like had he clinched a deal to sign Luis Suarez from Liverpool. The north London club were heavily linked with a move for the Uruguay international in the summer of 2013 but were unable to complete the transfer, with Suarez going on to join Barcelona 12 months later.
BBC Sport were among a throng of media outlets to report that the Gunners submitted a £40m + £1 ($58m, €52m) bid for Suarez in an effort to trigger a release clause in the forward's contract. The deal failed to materialise and the failure to clinch a deal was highlighted as Suarez went on to score 31 Premier League goals the following season.
On Tuesday [23 February], Arsenal will come face-to-face again with the player that slipped through their grasp as Barcelona travel to The Emirates Stadium for the first leg of the Champions League last 16. Suarez has been fine form this term having netted 41 goals in all competitions and Wenger admits he has wondered what could have been.
"I used to think, 'What if I signed Luis Suarez' before, but not now," the Arsenal boss said, according to The Independent. "He gives camaraderie to a team. He did it at Liverpool and he did it playing with Edinson Cavani and Diego Forlan for Uruguay, and did it well. Suarez is the kind of guy who manages to create that spirit in teams. Apart from the individual talent the three have, they also have a good understanding, cohesion and great solidarity.
"I have seen that Cristiano Ronaldo said that Messi passed the ball to Suarez at a penalty last week because he wanted him to be the top goalscorer. When you see someone like Messi give the ball to Suarez when he had the opportunity to score his 300th goal that means there's really something in there."
Luis Enrique's team represent a daunting test for Arsenal this week, with the reigning European champions having swept all before them this season. Wenger's side have won just one of their eight meetings with the Catalans but the French boss says the latest clash represents their best chance of upsetting the apple cart.
"It's our best chance no matter how big the chance is," he said, according to Goal.com. "We have to take it and have a go at them. I believe in these big games, in the first tie at home, we can't be stupid. Many times we've won away and at home we have conceded. We have to find a good balance between defending and attacking."
© Copyright IBTimes 2023. All rights reserved.