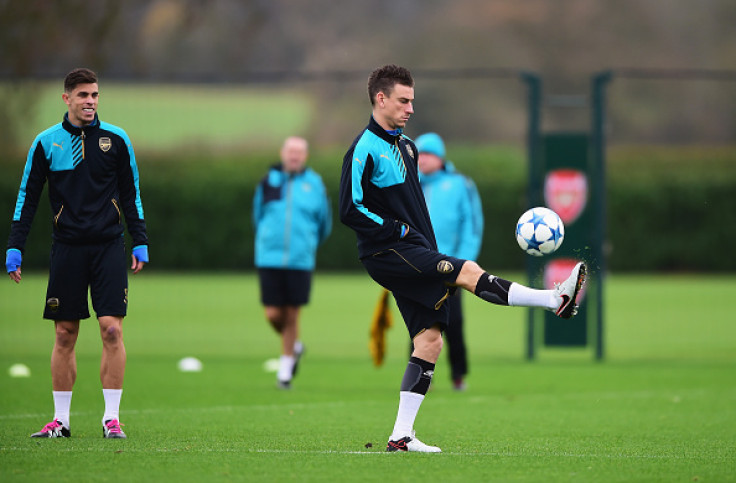 Arsene Wenger is facing a defensive conundrum ahead of Leicester City's visit to the Emirates Stadium on 14 February, as he will have to decide between picking a tried and tested partnership of Per Mertesacker and Laurent Koscielny or stick to the newly-established and flourishing partnership of Gabriel Paulista and Koscielny at the heart of the Gunners defence.
According to the Daily Mail, Wenger is considering picking the Brazilian ahead of his German defensive counterpart owing to the latter's lack of pace while dealing with speedy forwards, which will be the case on Sunday with Jamie Vardy and Riyad Mahrez lead the charge for the Foxes. Gabriel has an extra bit of pace, which could help in dealing with the Premier League leaders' counter attacks, something they used very effectively when they beat Manchester City 3-1 on 6 February.
Mertesacker and Koscielnly have been the French manager's preferred choice at the heart of the defence for much of the season, but the former Villarreal defender has cemented his place in the starting XI for the last three games, despite the German returning from suspension he picked up following their 1-0 loss to Chelsea on 24 January. The north London club have a great record when Gabriel is on the pitch for 90 minutes, as the Emirates Stadium outfit having conceded just one goal in the Premier League thus far, which was against Everton in October last year.
The 31-year-old former Germany international will hope to receive a recall after spending the last two matches on the bench, but Wenger will be aware that it is a crucial decision as the game against Leicester could have major bearing towards the outcome of the season.
Francis Coquelin, meanwhile, could be in line for his first start in the Premier League following his return from two months on the sidelines due to a knee injury. The Frenchman has started on the bench in the last two clashes against Southampton and Bournemouth, with the manager taking a cautious approach after his earlier than expected return to action.