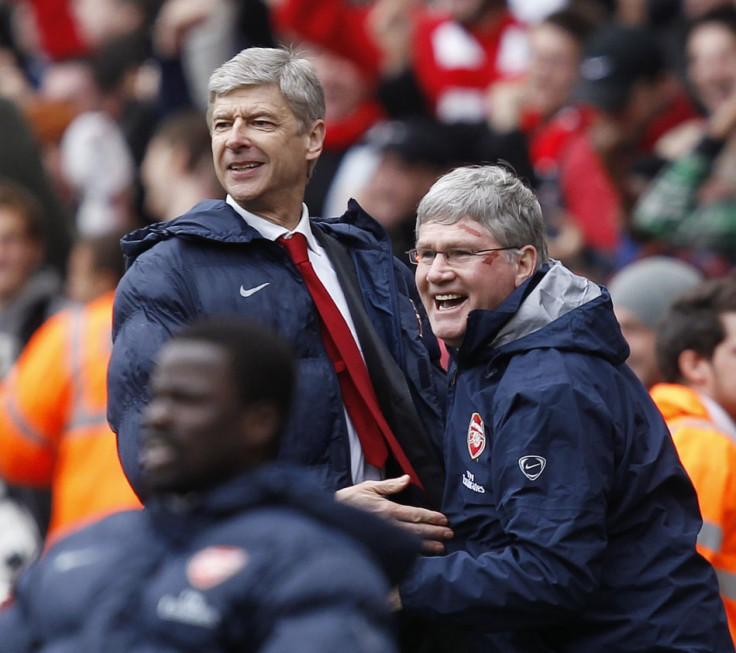 Arsenal manager Arsene Wenger has said the club's youth team coach Steve Bould could replace Pat Rice as the assistant manager for next season.
Rice seems set to step down this summer, after serving 16 years as the Frenchman's right-hand man, due to a chronic knee problem. Wenger praised the 63 year old and also revealed Bould was one of the top candidates for the post if and when Rice decided to walk away.
"It [Bould getting the job] is possible. Everywhere I go I keep somebody who knows the club and worked inside the club, so it is a possibility. It [Rice's future] will be decided very, very soon and I will decide after that. It looks like he could stop, but it is not official yet. Pat is fantastic. He works every day hard," the Daily Mail quoted the manager as saying.
Bould, who played for Arsenal between 1988 and 1999, as a centre-back, made 288 league appearances for the club during that time. The report also said former Arsenal captain Tony Adams and former goalkeeper Jens Lehmann were also in contention for the job.
Meanwhile, Wenger also revealed Jack Wilshere may not be fit even by the beginning of next season and once more spoke on his reluctance to allow the 20 year old Englishman to play for Team Great Britain at the 2012 London Olympics' football tournament, which starts on 26 July.
"I do not want to set the Olympics as a target [for Wilshere] because I do not know whether he will be fit to start at the beginning of the season. It is just our target to get him to improve. But let's not forget he has not played for a whole year. To be competitive at the top level it will take him some time to come back and we have to give him that time," Arsenal.com quoted Wenger as saying.
Arsenal will begin pre-season training in July and although Wenger wants Wilshere to be involved, he knows there are no guarantees about the midfielder's availability.
"If we start pre-season at the beginning of July and he is completely fit to join in normal training, then we will see [about the Olympics]. Nothing is definitely set at the moment, because we are in a slow progress world where we go step by step," he added.
MUST READ: Stoke City vs Arsenal: Van Persie Does Rescue Act Again, Gunners Forced to Draw