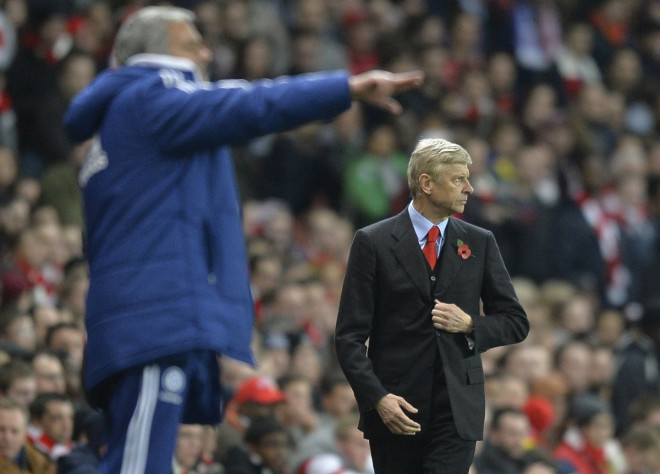 Arsenal manager Arsene Wenger and Chelsea boss Jose Mourinho have cranked up the psychological jousting ahead of the sharp end of the season after both downplayed their side's chances of winning the Premier League title after contrasting weekend results.
The Gunners were defeated by Stoke City as Chelsea cruised to a 3-1 win at Fulham to extend their lead at the summit while Liverpool's convincing win at Southampton saw them go second.
Chelsea are now four points clear at the top, a lead that in Wenger's eyes makes them favourites, particularly after Arsenal slipped up at the Britannia Stadium
"It is not slightly worrying, it's a big worry for us to lose a game like that," said Wenger. "It is a massive setback of course.
"We cannot say it's easy. It is difficult [to overhaul Chelsea and win the title], but I expected them to win at Fulham."
Andre Schurrle's hat-trick helped Chelsea to victory at rock-bottom Fulham and despite Manchester City, who won the League Cup on Sunday against Sunderland, having two games in hand, Mourinho's side have the momentum in a title race which promises to go to the wire.
But when asked if he would prefer to be in Chelsea's position or City's, Mourinho responded: "I prefer to have the destiny in my hands, and only City have destiny in their hands.
"If I win every game until the end of the season, all 10 - which we won't - maybe we are not champions. If they win all 12 games they have, they are champions. They have their destiny in their hands."
Wenger and Mourinho have been sniping throughout the season, with the latter claiming the French boss is a "specialist in failure" with Arsenal having not won a major trophy since 2005.
With Arsenal taking a break from the Premier League with an FA Cup quarter-final meeting with Everton, Chelsea could go omimously seven points clear with victory over Tottenham Hotspur.