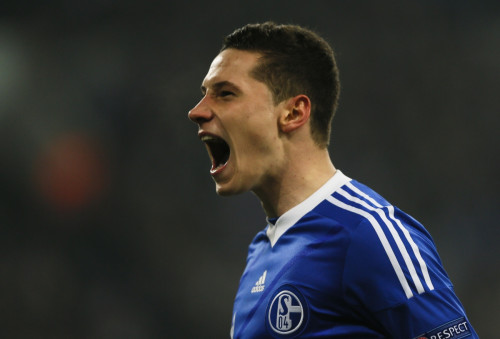 Arsenal have received a major setback in their race for Julian Draxler, with Real Madrid believed to have joined the race for the German, according to the Daily Mail.
The report states that Madrid have set their sights on securing Luis Suarez from Liverpool in the summer but with Liverpool on the verge of attaining Champions League football and the Uruguayan's release clause standing at a reported £82m, the Spanish giants have shifted their attention to Draxler.
The Gunners were close to securing a deal for the 20-year-old in January, but Arsene Wenger refused to spend the £37m fee demanded by Schalke and thereby lost the chance to bring the talented German to the Emirates in January.
Arsenal may rue their indecision in the summer with Bayern Munich also believed to be interested in signing the player along with Madrid.
Wenger is a huge fan of the fleet-footed youngster and is reportedly planning to convert him into a striker in the ilk of Thierry Henry and Robin van Persie. The midfielder is known for his versatility, as he can play on the wings or behind the striker and has an eye for a pass, something which he has displayed on a regular basis for his current side.
Arsenal themselves would prefer a move for Suarez, but with Liverpool on the verge of securing a spot in the Champions League, it will be difficult for either club to prise the Uruguayan away from Anfield.
Suarez is currently on £200,000 a week and has been scoring for fun in the Premier League. Wenger will be kicking himself if Real Madrid, who will be more than willing to pay the amount demanded by Schalke, do shift their attention to Draxler.
Meanwhile, the Gunners have allowed Liverpool to concentrate solely on the league by putting them out of the FA Cup, beating them 2-1 at the Emirates. Goals from Alex Oxlade-Chamberlain and Lukas Podolski saw off the Merseyside club as they sail to the quarter-finals to face Everton.