Paris Saint-Germain have confirmed the signing of former Arsenal target Julian Draxler, the club have confirmed. Draxler, 23, joins the Ligue 1 champions from Bundesliga side Wolfsburg on a four-and-a-half year deal for a reported fee of £35m.
The Germany international had long been linked with a move to the Emirates with Liverpool emerging as another interested party leading up to the January window but PSG have now clinched a deal for the midfielder who they hope can help revive their faltering season.
"It is with great joy and great anticipation that I join Paris Saint-Germain," he told PSG's official website.
"For the first time in my career, I am going to discover a new country, a new championship and I am very proud to live this new stage in a club which has become a reference in Europe, which has recruited many very great players."
Wolfsburg confirmed a deal have been struck with the French giants just before Christmas, with manager Valerian Ismael stating: "Of course, I regret the departure of Julian because he is an outstanding footballer, but I think that this step is the right one for all sides."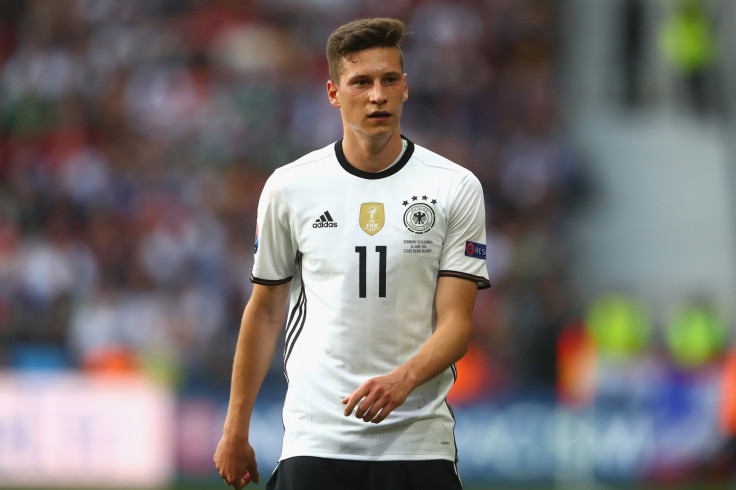 Draxler signed for Wolfsburg from Schalke in August 2015, identified as the man to replace Kevin de Bruyne who left Germany to sign for Manchester City that summer. The German struggled to fill the void however and after almost joining Juventus during the summer transfer window, continued to push for a move away ahead of the January transfer window.
In December, a member of Draxler's entourage told Le Parisien the midfielder was "hesitating" between PSG and Arsenal and had still to make a decision over which of the two clubs to sign for.
The Liverpool Echo has reported Jurgen Klopp had been monitoring the player, interest ended when Wolfsburg announced their agreement with PSG on Christmas Eve.