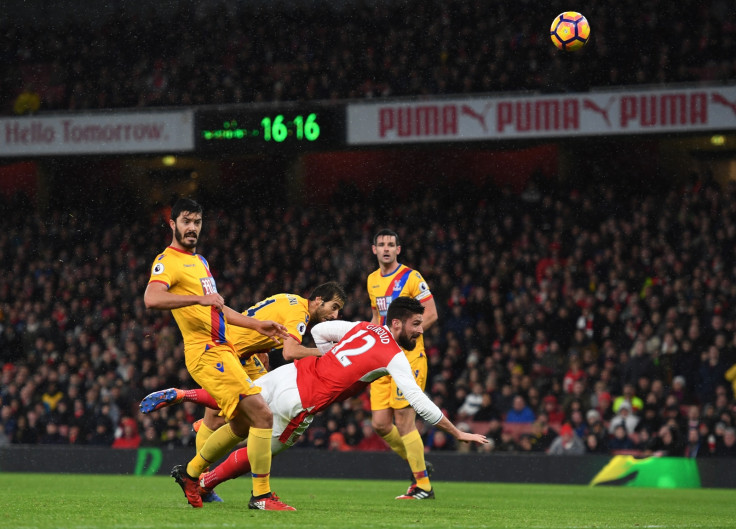 Olivier Giroud sent football social media into a New Year's Day meltdown this afternoon (1 January) by netting a quite sensational opening goal during Arsenal's comfortable 2-0 Premier League defeat of struggling Crystal Palace. Already guilty of missing a real sitter, the divisive French striker atoned for his error and produced the earliest of bonafide goal of 2017 contenders courtesy of a remarkable 'scorpion' effort that gave his side a deserved 17th-minute lead.
Having already contributed to an incisive Arsenal break with a lovely flick, Giroud proceeded to race forward into the penalty box. Alexis Sanchez's subsequent cross was actually played behind him, but that mattered little as the 30-year-old threw out a left leg and connected with a sublime backheeled hook that crashed in past helpless goalkeeper Wayne Hennessey and off the underside of the crossbar.
Giroud's extraordinary goal inevitably drew quick comparisons with a stunning recent effort produced by Henrikh Mkhitaryan. The Armenian playmaker demonstrated similar technique during the latter stages of Manchester United's Boxing Day victory over Sunderland at Old Trafford, reacting smartly on the edge of the six-yard box to send Zlatan Ibrahimovic's inviting right-wing cross beyond Jordan Pickford with an audacious back-heeled volley.
While both goals were obviously special in their own right, it certainly has not taken long for the debate to begin over which festive scorpion cracker was more impressive. The fact that Giroud's was netted from slightly further out certainly adds to his case, while the quality of the build-up play involving the eventual scorer is surely impossible to ignore.
As many Arsenal supporters have also been gleefully eager to point out, Mkhitaryan had actually strayed offside and his audacious finish should technically never have stood. It was nevertheless described as simply "beautiful" by Jose Mourinho, who claimed that such a goal would have gone down in United history had it been an effort to win an important match and not the third in a routine league win.
Speaking to BBC Sport after the game, a modest Giroud labelled that effort against Palace as unquestionably the best goal of his career to date and claimed that he may have been inspired by Mkhitaryan's earlier heroics.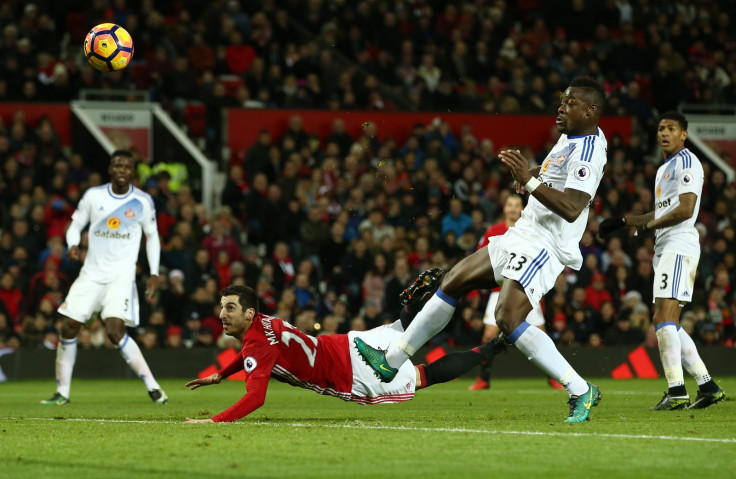 "It is not difficult to say it is the best one," he said. "I was a bit lucky but it was the only thing I could do, the ball was behind me and I tried to hit it with a backheel. Maybe [Henrikh Mkhitaryan's] goal inspired me, it's the only thing you can do in that position. It is nice for me and the team because we start the year with a win."
Arsene Wenger, meanwhile, placed Giroud alongside esteemed company in the likes of Gunners legends Thierry Henry and Dennis Bergkamp as the scorer of one of the top five best goals of his two-decade tenure.
"What is great for us is that it was at the end of a strong move and after that it is down to reflex," he said. "It is not impossible to score but you must have reflex. The cross doesn't come in ideally and you have to do something special and that is what Olivier did. I have been spoilt over the years with all the great strikers - Bergkamp, Henry. You remember them because they are linked with special goals. This will be the Giroud goal forever. You can only focus on the next game. Every one of them is difficult but you just try to win the next game."