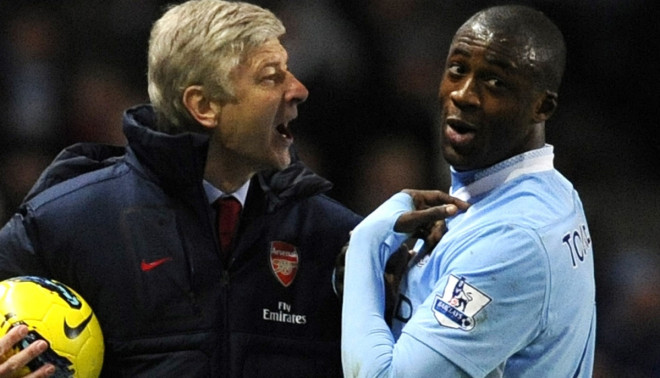 Arsenal manager Arsene Wenger says the failure to agree a work permit for Yaya Toure during his trial with the north London club is his greatest regret of his career.
The Ivory Coast international had a spell with the Gunners in 2003 but after a work permit was denied he return to Belgian club Beveren before he joined Olympiakos and Monaco prior to enjoyed unparalleled success at Barcelona where he claimed seven major honours
Now regarded as one of the most dominant midfielders in world football, Toure has won the Premier League title, the FA Cup and the League Cup during three and a half seasons at Manchester City and comes up against Arsenal this weekend with Wenger still regretting the missed opportunity.
"At the top," Wenger replied when asked how high missing out on Toure ranked on his career regrets.
"But let's not forget Toure had an agreement with Arsenal. We waited for his passport in Belgium but he went to Ukraine [instead].
"He's not a mistake but he preferred to go to Donetsk without a passport."
Toure has scored 17 goals in the Premier league this season and is spearheading City's pursuit of the title as the season reaches the sharp end.
With Arsenal reeling following the 6-0 loss to Chelsea in Wenger's 1,000th game as manager and the 2-2 draw with Swansea City, Manuel Pellegrini's men will be looking to drive a stake through their title aspirations at the Emirates Stadium.
But Wenger said: "The mood is of course disappointed but we want to prepare for the next game. We gave everything against Swansea. We want to focus on our own strengths and we need to have a top defensive performance.
"After every game I don't win, I'm disappointed but I'm just determined to win the next game. It will be down to the quality of our collective defending tomorrow. We have to keep going despite our negative results."
Ahead of facing the threat of Toure and co. Arsenal with without midfield duo Jack Wilshere and Aaron Ramsey, who continue to be hampered by respective foot and thigh problems.
"Nobody will be back for tomorrow's game," Wenger added. "We must focus on our own strengths and get it right defensively."
"Ramsey will be the first back but we still need to be cautious. Jack Wilshere needs more time."