Arsenal manager Arsene Wenger expressed fury at referee Neil Swarbrick's decision to award a penalty to Watford after his side were beaten 2-1 at Vicarage Road.
Troy Deeney scored from the spot in the 71st minute to cancel out Per Mertesacker's opener after Gunners right-back Hector Bellerin was ruled to have fouled Richarlison in the box.
Television replays appeared to suggest there was minimal contact, with Wenger adamant that the challenge was not worthy of a penalty offence.
"The decision on the penalty is a bit ridiculous and then we panicked a bit for their second goal and in the end we stand with a defeat," the Gunners boss was quoted as saying by Press Association Sport.
"It is a scandalous decision, but what can we do about it? Nothing. We can talk and talk and talk. At the end of the day they scored.
"We dropped our level in the second half, we played very well in the first half. Despite that, we had the chances to score two and three."
Watford rallied after Deeney's equaliser, with Tom Cleverley scoring an injury-time winner to send the Hornets into the top four.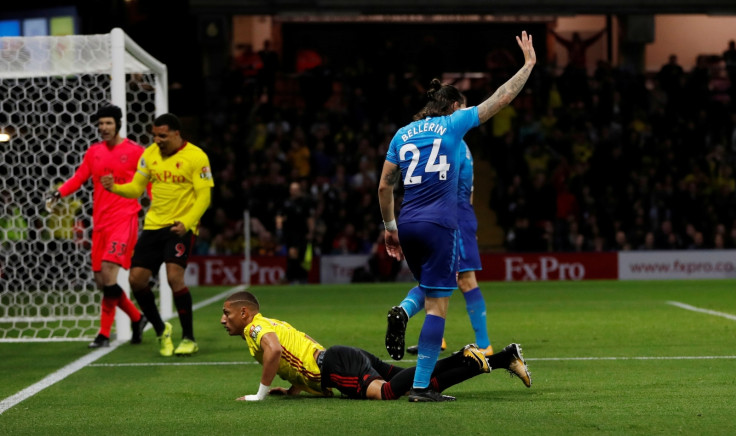 Manager Marco Silva defended Richarlison and was quick to reject accusations that the Brazilian forward had exaggerated his coming together with Bellerin to earn his team a penalty.
"I have seen the penalty now and I respect the decision of the referee," he was reported as saying. "It's important, I didn't see a dive or a simulation.
"Richarlison has suffered the most fouls in the Premier League this season, and people are starting to say he dives.
"He is not. He is fair, He wins fouls like the best players in the world win fouls."
Meanwhile, Hornets captain Deeney hit out at Wenger's post-match comments and said Arsenal were not brave enough to get the win at Vicarage Road.
"I've heard Wenger's already blaming [the penalty] as the reason for why they lost," he was reported as saying by London Evening Standard.
"Well, I'm not going to be one to tell Mr Wenger about himself, but there's a reason that they lost and it wasn't because of one penalty.
"I have to watch what I say, but it's [having] a bit of cojones, is what I'll say."