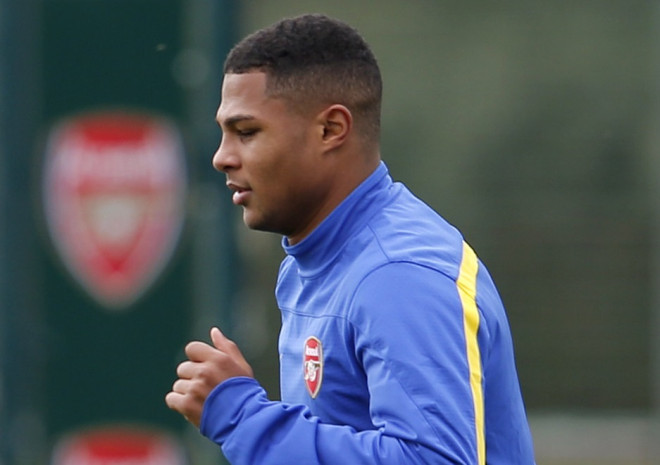 Arsene Wenger is reluctant to throw Serge Gnabry and other Arsenal prospects straight into the first team as the club attempt to navigate their way through their current slump.
Eighteen-year-old Gnabry was handed a string of starting roles for the Gunners in January and after an outstanding performance against Tottenham Hotspur in the FA Cup he was expected to feature in the Gunners' title push.
An injury that ended Theo Walcott's season seemingly paved the way for Gnarby to step in and provide pace in Arsene Wenger's attack, but the Germany youth international has made just two substitute appearances since the start of February.
In that time Arsenal's title challenge has been derailed by crushing losses to Liverpool and Chelsea while Tuesday's 2-2 draw at home to Swansea saw the club fall further behind rival title contenders.
"When you go through a difficult period like that, you need a bit of experience," Wenger said, London 24 reported. "To put young players under massive pressure at the moment like we are... It is easier said than done.
"At the moment, I feel that the experienced players did very well and we need that as well in a situation like that."
Arsenal's season has deteriorated to the extent where their title challenge has drifted into a potential battle to cling onto a Champions League spot in fourth place. Tuesday's draw to Swansea saw the Gunners fall six points behind league leaders Chelsea and three adrift of third-placed Manchester City, who have two games in hand.
Worryingly, an in-form Everton are now just six points behind Wenger's side and the Arsenal boss admits his side must be just as concerned about the clubs behind them as the ones ahead of them.
"We have to look behind us; of course, we also have to look in front of us, but as well behind us," Wenger said following Tuesday's dismal draw.
"Everton won, so we have to focus and prepare well for the next game. It will be open until the end, we can still have surprises."
Arsenal welcome Manchester City to the Emirates on Saturday evening ahead of a potentially daunting trip to Goodison Park on April 6.