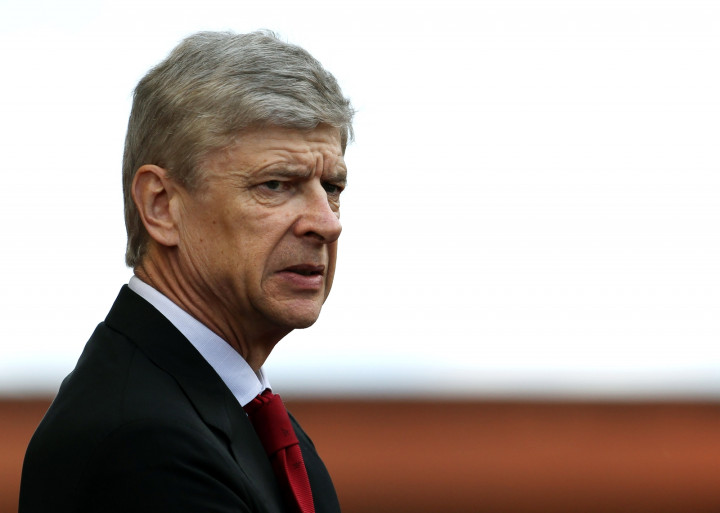 Arsenal manager Arsene Wenger is braced for a late raid in the transfer market after admitting he will be "alert" to possible deals until the end of deadline day.
The Gunners have already made four significant additions this summer but following injury to Olivier Giroud are being urged by fans and pundits alike to splash out on a further signing before the window shuts on 1 September.
The likes of Danny Welbeck and Radamel Falcao continue to be linked with a move to Arsenal to fill the void left by Giroud – who will miss the next four months with a broken leg – but while Wenger is refusing to be specific on personnel the Frenchman is open to a late deal.
"It is very difficult," said Wenger in his pre-match press conference ahead of the Premier League game against Leicester City. "All negotiations have to be discussed secretly. If something happens, you will of course be informed.
"We live in a society of opinions. People are better informed today. Everyone is entitled to an opinion. It doesn't mean their opinion is right.
"I will actively be involved on deadline day. I will be on alert until the last minute. We have shown in the last two seasons that if there are [players to buy], we will do it. The last few days [of the transfer window] are like poker games."
On the possibility of signing a striker during the last three days of the window, Wenger added: "We have Yaya Sanogo, we have Alexis Sanchez, we have Theo Walcott, we have Lukas Podolski. Joel Campbell can also play centre-forward don't forget."
After securing their place in the Champions League group phase for a 17th successive season, Arsenal travel to newly-promoted Leicester will an eye on building on the 2-2 draw with Everton, which saw the north Londoners stage a remarkable late comeback at Goodison Park.
But as well as Giroud, Arsenal will be without three players including Mikel Arteta and Kieran Gibbs, who are both suffering from ankle and hamstring injuries respectively.
"Arteta will be short and Gibbs as well," Wenger stated. "We don't have any injuries from Wednesday night. Ramsey is available again. David Ospina is back in full training but may be short for Sunday."