Arsene Wenger hopes Alexis Sanchez will continue proving his worth at Arsenal for the long term after the Chilean international led the Gunners to a 2-0 victory over Sunderland on Tuesday (16 May) by scoring two goals.
Meanwhile, the Frenchman allayed fears over an injury to Aaron Ramsey ahead of the last Premier League game of the season against Everton and the FA Cup final with Chelsea.
Sanchez's availability to face Sunderland was in doubt after the Gunners top scorer suffered an injury on the weekend.
Wenger, however, decided to play him and the former Barcelona star netted a brace to keep alive Arsenal's slim hopes of finishing in the top four.
"With him, I feel he had something still left, but once he's on the pitch and gets the ball, he always becomes a devil and forgets his pain," Wenger said in the press conference after revealing that he only decided to play the Chilean at 4pm on Tuesday (16 May).
"Nobody questions his desire and his quality. It shows as well that if you look at his numbers, he has developed here as a player and has become a top-class player and has not wasted his time here. Hopefully that will last for a long time."
Ramsey, meanwhile, was forced off and replaced by Danny Welbeck in the 69th minute of the victory over Sunderland.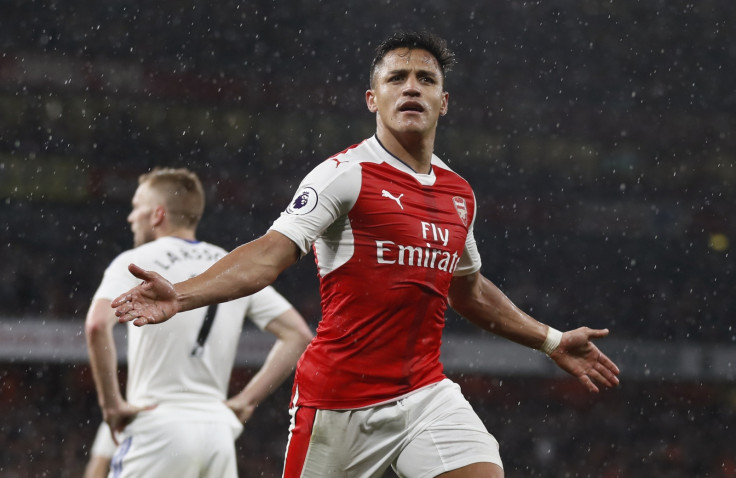 However, Wenger ruled out a major blow after the game, suggesting that the Wales international could be ready for both the coming Premier League against Middlesbrough and the FA Cup final with Chelsea.
"He's alright," Wenger just replied when asked about the midfielder substitution.
The victory over Sunderland leaves Arsenal one point behind fourth-placed Liverpool ahead of their final match of the season against Everton.
Meanwhile, Manchester City are three points ahead of the Gunners after beating West Brom – and only need a draw at Watford to secure Champions League qualification.
However, Wenger refuses to give up on the top four as Arsenal could still get their target if they beat Everton on Sunday and Liverpool drop points in their home game against Middlesbrough.
"You never know. But anyway, I answered for 20 years the question – 'the top four is nothing special'. So I don't know why suddenly it could become such a big problem. I'm quite surprised. I want to absolutely make sure that we are in there but after that let's get to 75 points and see what happens. You want all the teams to fight like Sunderland did tonight.
"After, you have to accept the result. What is for sure, if we win our game, we can only be far from one point. Let's give ourselves every chance," Wenger said.
"I don't even think about percentage, I just think about let's make sure we win the game, because we play against Everton. Even if you only had one per cent, you would have to play at totally 100 per cent. I think we have a chance. It would be the first time you make 75 points and aren't in the top four."