Arsenal will not be overly impacted by their absence from next season's Champions League during a summer transfer window which is set to mark the re-emergence of Manchester City and Manchester United, according to manager Arsene Wenger. The Gunners must win their final two Premier League games against Sunderland and Everton and hope one of their top four rivals trips up in order for the Frenchman to retain his 100% record of qualifying for Europe's premier club competition in each of his 20 seasons at the helm.
Third-placed Liverpool are four points ahead, having played a game more and face Middlesbrough on the final day. City meanwhile have a three-point cushion over the north Londoners and take on West Bromwich Albion and Watford knowing four points will be enough to secure a top four berth.
Should Arsenal indeed fail in their quest of finishing in the Champions League places they will drop into the Europa League – the continent's second tier club competition. The cartel of players Arsenal would then be able to attract would therefore expect to be reduced, but Wenger is confident plans for the window – with or without him at the helm – will be unaffected.
"I believe finishing outside the top four will not have any influence on the way the club will be led and how we will behave in the transfer market," he told reporters, according to The Mirror. "It will be frustrating if we don't get in. I still think we just have to give our best to get to 75 points and if it doesn't happen, it doesn't happen. At least we have done our job well to the end.
"I started the season to win the Premier League and when you don't do it, you're never completely satisfied, like everybody else. But as well, it's not disastrous. I think what's encouraging is the way the team develops recently and the way the ambition of the team is back. Overall I think it's difficult to get points in this league, it's difficult for everybody.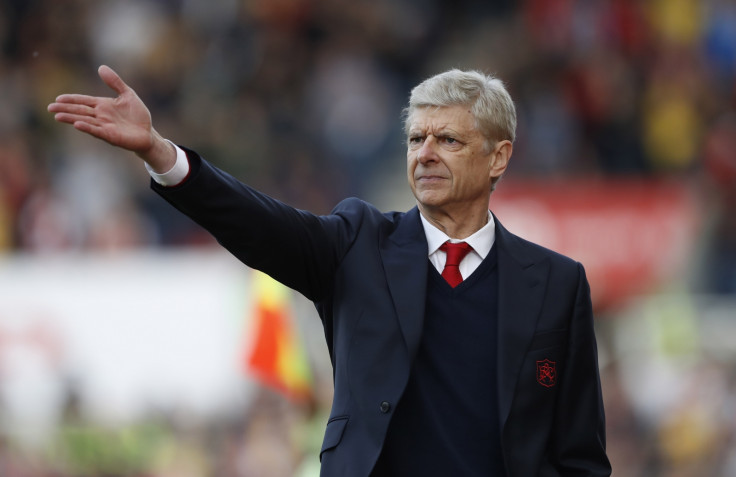 "I would say we would be a victim of a lack of consistency that we have shown through the season. Overall, that is in a very short spell where we have paid for it. We are a victim of nobody. If we make 75 points, we can only be beaten by one point."
Regardless of the outcome in the race for the Champions League, Wenger does not expect Arsenal's task of continually reaching the top four to become any easier. The 65-year-old expects both City and United – neither of whom have staged a genuine bid to win the title this term having been among the highest spenders of last summer – to invest in their squads again before the start of next term.
"Man United will bounce back well next season," the Arsenal boss added. "They will buy players. It is very tight with Man City. They will buy again. That is part of the modern challenge now, to find the players who will strengthen the team.
"To buy doesn't necessarily mean success. There is a shortage of top level players. There are some big teams in Europe who have big players but they do not need to sell them. You look and we are certainly the richest league in Europe, but there are still some top level players who play in other leagues. There is more money available than good players."