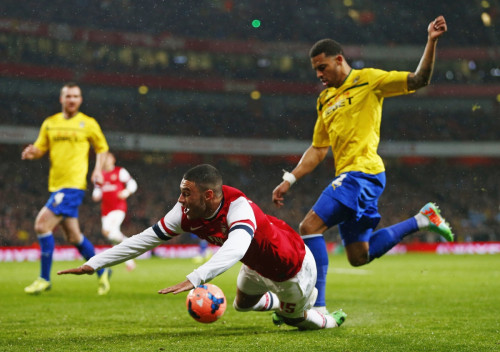 Arsene Wenger has heaped praise on Alex Oxlade Chaberlain and Lukas Podolski, with the duo making successful comebacks from injury spells to provide Arsenal with a lift as the season hits the business end.
Chamberlain's return to action is particularly well timed as Wenger looks for attacking players to take the place of Theo Walcott, who was ruled out for the remainder of the season with an ACL injury at the start of the month.
And with Podolski helping bolster the striking line-up, with Nicklas Bendtner still getting back to full fitness and Olivier Giroud shouldering much of the pressure in front of the goal until now, Wenger said the Germany international's performance against Coventry last night – in which he scored a brace – was a sign of what's to come.
"Podolski can score goals and when you have a goal chance you want him to have it," he told the Arsenal website. "He is a clinical finisher and he has an unbelievable short and quick backlift.
"He is very accurate in his finishing. He can be effective, he can score goals when he starts and when he comes on, he is always dangerous. His performances have been more convincing on the flank than in the middle until now."
Wenger was also pleased with Chamberlain's performance and sees the England international linking up well with Jank Wilshere for the rest of the season as the Gunners aim to keep their place at the top of the table.
"I liked what he did tonight in the centre, especially when we had the ball," the manager explained. "Defensively he worked hard but I liked especially offensively him and Jack together, they could be a good partnership in the future for England as well."
Arsenal now look ahead to face Southampton on Tuesday night and Crystal Palace the following weekend. Then the side have particularly tough games coming up with Liverpool and Manchester United back to back which could prove pivotal in their title push.