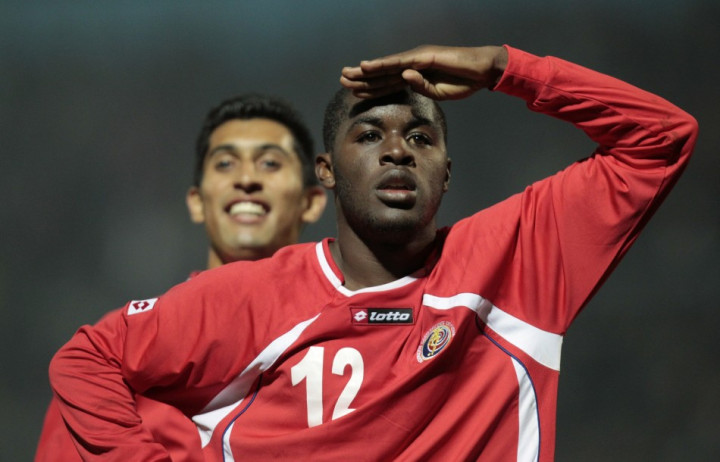 Arsene Wenger is ready to give Costa Rica's star forward Joel Campbell his chance at Arsenal next season.
The Costa Rican international, was signed by the Gunners in 2011 from Deportivo Saprissa. Due to work permit issues, he was immediately loaned out to Lorient in Ligue 2.
Campbell's loan experiences were continued for a further two seasons and it was in Olympiacos last season where he caught the eye with some standout performances, especially the one against Manchester United in the Champions League.
Wenger has assured the striker that he would be included in his plan for the next campaign.
"He will definitely come back to us for pre-season, he is maturing well," Wenger told the Daily Mail.
Wenger, who is currently in Brazil, doing commentary for French television missed the game but got glowing reviews from fellow colleague Avram Grant.
With all the work permit issues now sorted, Campbell will join the rest of the squad for pre-season and get his chance to play at the Emirates.
Meanwhile, Campbell has expressed his desire to play for Arsenal after spending the last three seasons on loan away from the north London club.
"Of course I have to go back, because I have a contract with Arsenal. The most important thing just now is my country and the World Cup," Campbell said.
The Costa Rican striker, who is currently in Brazil for the World Cup, has made a huge impression with his outstanding performance against Uruguay in their opening fixture. He scored a goal and set up the other in the first upset of the tournament.
"Today was excellent for me but it would have come to nothing without the contribution of my colleagues, everyone lived up to their responsibilities. I tried to do my best to score goals and my colleague supported me.
"We have to take one step after another. We have difficult matches ahead but this will give us impetus," the Costa Rican explained.
With Campbell's desire to play for the north London club and Wenger's latest comments, the on-loan Arsenal forward can return to the Emirates and finally feature for the Gunners three years after signing his contract.