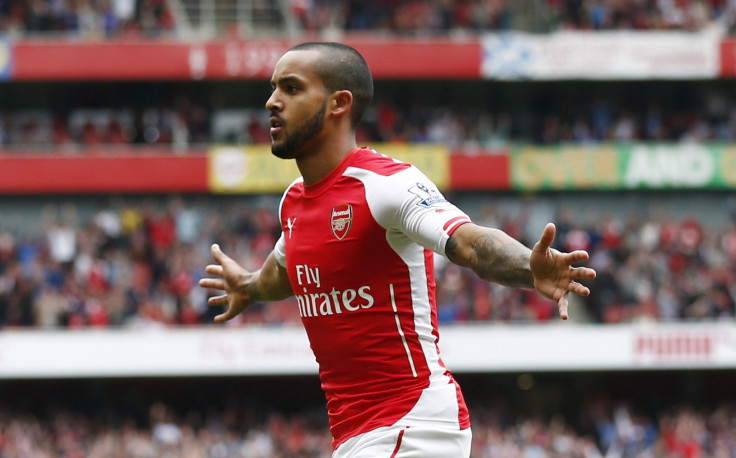 Arsene Wenger has revealed that Arsenal "can finalise" a new deal for Theo Walcott "very soon" after the England international scored the winner during the 1-0 victory over Wolfsburg in the Emirates Cup.
The 26-years-old's future at North London has been under scrutiny in recent times as his current contract at the Emirates Stadium is set to expire in summer 2016.
But even though Wenger recently revealed the Gunners are open to the possibility of signing a new striker during the summer transfer window, the French boss has claimed Walcott still has a long-term future at the Emirates Stadium and is close to agreeing a new deal.
"Not yet but we're getting closer and closer. Hopefully we can finalise it very soon," Wenger revealed in the press conference after the Emirates Cup victory.
The England international scored the only goal of the game against the Bundesliga side after Wenger once again handed him the responsibility of leading the attack in a central role.
Wenger praised his performance but was coy on whether he will keep playing him up front or in the flanks ahead of the new season.
"Another goal for Theo and I'm not surprised by that because I played him through the middle. I've always said that he's a goalscorer because he has the movement, he has the timing of the run, the speed for the finishing, and he has an eye for taking his chances at the right moments," he said.
"When he gets into these positions he finishes well. Yesterday he nearly scored when he came on as a substitute, today he scored. I believe that Theo will score goals."
"It's a good question because it's a complicated answer. I think in all the three positions. If you ask him where he loves to play, I believe that even he will say that it depends a little bit on the period. Sometimes he prefers left. When I've played him on the left he likes it as well because if he makes a good run he can score goals as well.
"In his ideal world he would like to play with a strong guy next to him, a player who is very strong physically, and he play off him. We have so many offensive players which makes that very difficult to combine all of them together."
Meanwhile asked once again about the possibility of signing on a striker during the current transfer window after both Walcott and Olivier Giroud scored goals in the Emirates Cup, Wenger said: "I can understand this question because we are in the transfer period but I can only repeat what I already said. I would not like it to be too detrimental. Just watch the game and enjoy the game that you see."