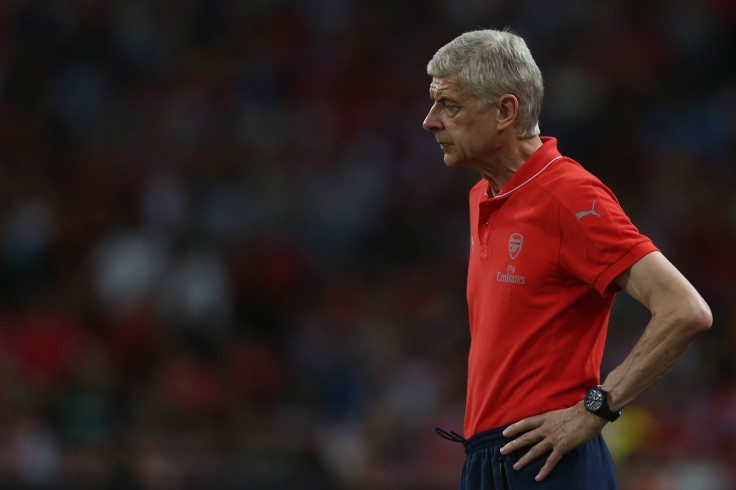 Arsenal manager Arsene Wenger has insisted that the Gunners are "not in desperate" need to sign a striker during the summer transfer window but remain "open-minded" about it, after beating Lyon 6-0 in the Emirates Cup on Saturday 25 July.
The manager also predicted that some members of the squad – especially the youngsters – could leave the club on loan before the end of the transfer window, to secure more playing time abroad.
The Gunners have been linked with a number of forwards during the summer transfer window as some believe the lack of goals prevented them fighting for the Premier League title last season.
But Olivier Giroud, Aaron Ramsey, Alex Oxlade-Chamberlain, Mesut Ozil Santi Cazorla and academy star Alex Iwobi all scored one goal each in an impressive performance to beat Lyon in the Emirates Cup first day.
Speaking after the game the French boss claimed the performance proved that Arsenal are "not in desperate need" for a number nine but still open if a good possibility arrives.
"I've said it and I still stay that today – we are open-minded [on transfers] but we are not in a desperate need," he said in the press conference after the game.
"When you score six goals, I concede that you don't have a desperate need. We won the FA Cup final scoring four goals. We score goals, and that's what I mean by that. We can create chances and we can score goals. We are open minded, but everybody is on the market. Many clubs have big, big budgets."
The manager, nevertheless, insisted that the current squad is already well balanced as pointing out that both Alexis Sanchez and Danny Welbeck missed the game.
"On one side the questions in the press is, 'How do you keep everybody happy?', and on the other hand, one minute later they ask me, 'Why don't you buy any more players?'. So, if I cannot keep the ones I already have happy why should I buy more? I think our squad is well balanced quality-wise and numbers wise because of the number of games we have we need everybody. Because it is a competition it is part of our job."
Indeed when Wenger revealed that Wojciech Szczęsny is close to being loaned to Rome on Friday, he suggested more member of the squad will follow the same footsteps before the end of the transfer window to continue his development somewhere else.
"At the moment some players might go out on loan. At the moment, Alex Iwobi will be staying with us but for the others we have to decide do they need the experience to play somewhere on a regular basis, to finish their education.
"It is always difficult to decide because they go out and they don't play they waste that time because here they practice with top-level players. So that's always very sensitive."