Arsenal manager Arsene Wenger is set to revert to the club's traditional tactics for the FA Cup semi-final against Manchester City after deploying three at the back for the Premier League win at Middlesbrough. The 67-year-old began with a central defensive trio for the first time since 1997 in an effort to enhance his team's confidence - and it paid dividends as the Gunners kept alive their Champions League qualification hopes.
Alexis Sanchez netted a first half free-kick but the north Londoners' ariel issues were exposed when Alvaro Negredo beat the returning Laurent Koscielny to Stewart Downing's cross to divert beyond Petr Cech. But the visitors secured their first win at the Riverside Stadium since 2005 when Mesut Ozil hammered past Brad Guzan after Aaron Ramsey's chest control.
The formation implemented by Wenger mirrored many of his Premier League rivals, including Chelsea's Antonio Conte who has enjoyed great success with the title pace-setters. But Wenger has indicated that Arsenal will abandon the new-found tactics this weekend at Wembley.
"We want to have more of the ball," the Arsenal boss told Sky Sports, when asked if the 3-4-3 formation could be retained on a long-term basis. "But when a team lacks confidence changing the system can help to believe in something different.
He added after Arsenal ended a run of five away games without a win: "I felt that it added a bit more stability on the long balls. We knew we would face a direct game and we have been recently punished in that. Of course the opponent had a bit more of the game than we are used to. We lost two games to Crystal Palace and West Brom when we had 70% possession and today we had a bit less."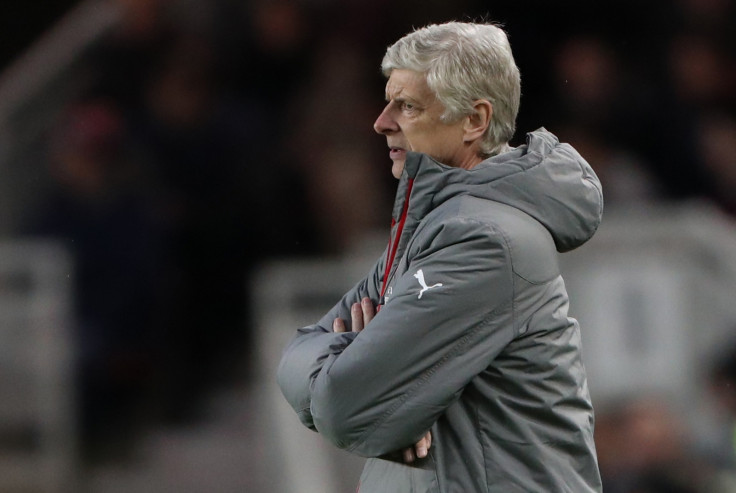 The result leaves Arsenal seven points adrift of fourth place City with a game in hand heading into the final month of the campaign. The display on Teeside was a far cry from the one which accompanied the 3-0 loss at Crystal Palace, leaving Wenger to conclude that his side's psychological demons have been conquered.
"I feel that we were focused and committed and you could see that we do not play with full confidence in some moments in the game but overall we really wanted to win. In the second half when it opened up sometimes we missed the final ball when we could have added one or two more.
"There is still come chances that we could've dealt better with some long balls but overall the commitment and the focus was there. When you have a lack of confidence it comes back slowly and only results help.
"It was positive and you can see that the players have a good mentality and they wanted to win the game and they responded but when we team is psychologically not in a comfortable situation sometimes the situation can turn the other way around.
"I feel we're in a position where we want to perform. You can always find explanations but we are professional people. Despite sometimes difficult situations some situations lack clarity we can still perform."