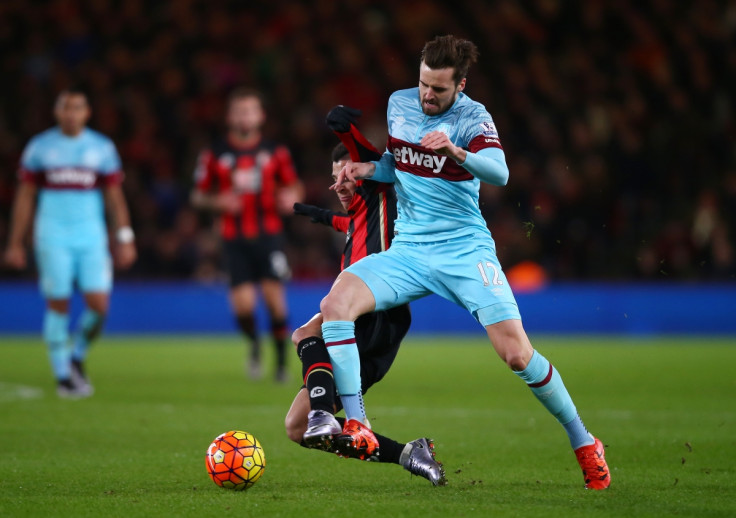 Arsenal manager Arsene Wenger has confirmed that Carl Jenkinson has a future at the Emirates Stadium amid the uncertainty surrounding Mathieu Debuchy. The French boss suggested that once the 24-year-old recovers from the serious knee injury he suffered with West Ham earlier in January he will be ready to compete with Hector Bellerin for a place at right-back.
Jenkinson moved on loan to the Hammers in the summer of 2014 after the Gunners signed Debuchy from Newcastle to be the starting right-back. Yet the impressive form of Bellerin during that season saw the Spaniard becoming the first-choice.
Wenger, therefore, opted to send the England defender back to the Hammers for an extra campaign to continue his development while keeping Debuchy as the back-up for Bellerin. However, the Frenchman forced a move to Bordeaux during the January transfer window after growing frustrated about the lack of playing time.
The situation has left Wenger shortage of options in his right-back during the second part of the season, with versatile Calum Chambers covering the absences of Bellerin. Wenger has suggested that Jenkinson could fill that gap in the long-term after impressing him at West Ham before suffering the cruciate ligament injury earlier in January – leaving a doubt where Debuchy's future will lie once his loan deal at Bordeaux expires.
"(Jenkinson) he has gained a lot of confidence... I see his future as being a contender for this position at our club..." Wenger said to the club website.
Wenger, nevertheless, is expected to keep Bellerin as his first-choice right-back after the Spaniard has been one of the most consistent player in his squad during the last two campaigns.
"That's what strikes me most," said Wenger about Bellerin. "I've been in this job for a long time but there's something in a young player that you feel when he comes through – this desire that he has to be as good as he can be.
"Sometimes the hunger index drops as soon as they arrive and I've always believed that the first and second seasons are very important. You can see how much more the player wants to improve. Sometimes when they arrive at the top level they feel as though they can have a little breather. Those who are the real competitors want to go forward and want to do more. They want to be better and that decides their career."
The French boss said that Bellerin's eagerness to keep improving reminds him of former Arsenal star Lauren, who played a major part in the Invincibles side that won the Premier League in 2004/05 without losing a game alongside the likes of Thierry Henry, Robert Pires and Dennis Bergkamp.
"He reminds me a little bit of Lauren because Lauren was an offensive player who became a very convincing and very strong defender," added Wenger. "I believe Hector can go the same way because at the start he was a right-sided midfielder and he has now become a defender.
"I believe he can keep his defensive qualities and, because he wants to improve, with experience he will improve his defensive qualities. He has a similar kind of spirit."