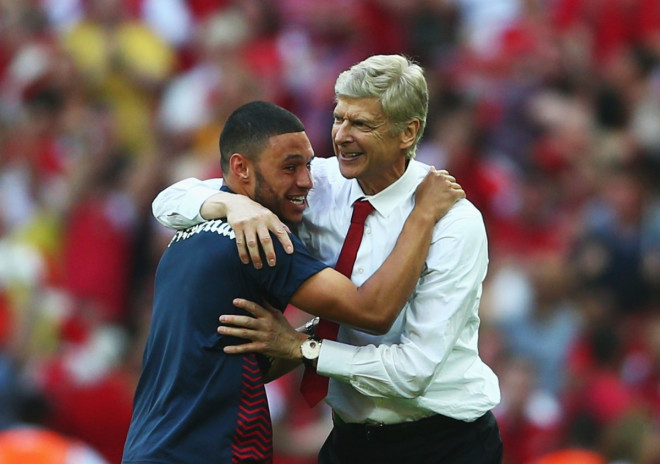 Arsene Wenger is set to sign a new three-year contract with Arsenal after their FA Cup triumph against Hull City and will be handed a £100m transfer budget to spend in the summer, according to the Telegraph.
This was Wenger's first major trophy in nine years at the club, having had to endure a drought after winning the same competition in 2005.
The Frenchman, who was insisting that he will sign a new contract irrespective of the result at Wembley, was overtaken with joy after the whistle as the Arsenal players showered him with alcohol and the supporters revived their love for the Gunners' longest serving manager.
Wenger is expected to put pen to paper later this week and start making plans for the summer transfer window, which is likely to prove crucial if the Gunners have to build on their FA Cup win and challenge for the title next season.
Wenger's side failed to put in a sustained challenge for the title this season after leading the race for over four months, more than any team in the top four.
Injuries to key players killed off their campaign with Aaron Ramsey, Theo Walcott, Mesut Ozil, Laurent Koscielny and Jack Wilshere, all unavailable during a crucial part of their season.
Wenger needs to address the concern with persistent injuries and has to strengthen his side in the summer, with the Gunners in desperate need of a striker to cover for Olivier Giroud.
The report states that Karim Benzema and Mario Mandzukic are both high on Wenger's list for a transfer with both players likely to leave their respective clubs in the summer.
The Gunners are also in the market for a defensive midfielder to replace Mikel Arteta and have made enquiries about Javi Martinez and Lars Bender. Morgan Schneiderlin is also a potential target if they fail to land their top preferences.
Meanwhile, the Gunners have to strengthen in defence with Bacary Sagna, Thomas Vermaelen and Lukasz Fabianski, all set to leave the club.
Arsenal are keeping an eye on Toulouse defender Serge Aurier to cover for Sagna alongside Southampton right-back Calum Chambers and are also in the market for a goalkeeper to act as backup for Wojciech Szczesny.