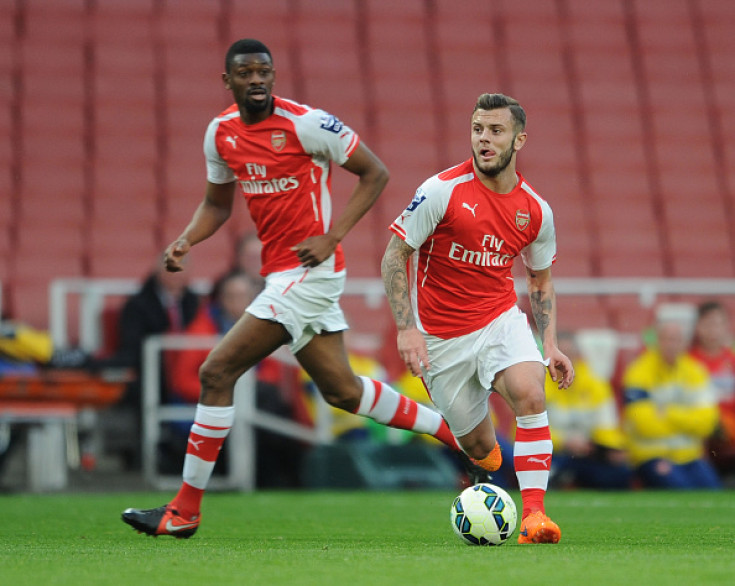 Arsene Wenger has urged Jack Wilshere to dispel the lure of a big money move to Manchester City and confirm his long term fixture with the Gunners.
The England international has made only his 100th appearance for the Gunners this season, in spite of being in the first team for over five years, owing to a number of injuries he had to suffer over the course of his career.
The midfielder was out for another six months in the current campaign, owing to a tackle by Paddy McNair in their game against Manchester United at the Emirates, but the player is back fit now and is expected to start on the bench in the FA Cup final against Aston Villa on 30 May.
Wilshere has recently revealed that he is fearful about his future with the Gunners and having stayed there for so long, it was imperative that it would sting a lot if the north London club decide to dispose of his services.
However, Wenger has urged the player to look back at the faith Arsenal have shown in his abilities and try to return the favour on the pitch.
"I made Jack Wilshere start at 17 years of age. That means that you cannot show a bigger desire of wanting a player. We have always extended his contract and we have been very patient with all his injuries. At some stage I think he must feel wanted," Wenger said.
"We always stood by him through every difficult moment. Does that mean we want him to stay here for a longer period? Yes, as we would like to benefit from his talent now."
The Gunners will take the pitch to defend their FA Cup title against Aston Villa at Wembley, having won the 2014 edition in nerve wracking fashion against Hull City, going two goals down in the opening few minutes.
Wenger will be hoping that his team have taken valuable lessons from that impediment last season and will start on a brighter note against a pacy Villa side, who will be going for the kill from the outset.