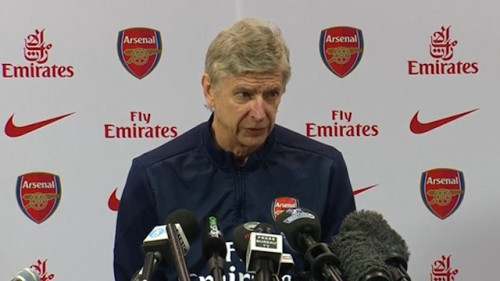 Arsene Wenger has revealed that the Gunners are no close to securing a deal for Schalke midfielder Julian Draxler in spite of reports stating that Arsenal have agreed a fee with the Bundesliga club for the German international.
Arsenal made their way into the fifth round of the FA Cup with a win over League One side Coventry City at the Emirates, whom they beat 4-0 with a brace from Lukas Podolski while second half substitutes Olivier Giroud and Santi Cazorla each put their name on the scoresheet. The Gunners were vehemently linked with a £37m move for midfielder and reports across the country suggested that Wenger was on the brink of pulling off a second big money signing in the space of six months.
However, the Frenchman has poured cold water over any such speculation, stating that the Gunners are well stocked in the flanks and do not consider that region as a cause for concern.
Arsenal have Santi Cazorla, Serge Gnabry, Jack Wilshere, Theo Walcott, Alex Oxlade-Chamberlain and Lukas Podolski who can play on the flanks and Wenger is inclined towards strengthening his attack than splashing the cash on more attacking midfielders. It is believed that Wenger will try to convert Draxler into a centre forward in the same ilk as Robin van Persie.
"That again is an illusion. There is nothing happening, honestly no. We have no need on the flanks, we have Chamberlain coming back, we have many players on the flanks. Honestly, I told you in the last press conference, we don't rule it out but at the moment I cannot announce anything to you," Wenger told www.arsenal.com when asked about the German.
Meanwhile, the manager also praised Lukas Podolski for his performance and acclaimed him as the best finisher in his team.
"Podolski can score goals and when you have a goal chance you want him to have it. He is a clinical finisher and he has an unbelievable short and quick backlift. He is very accurate in his finishing. He can be effective, he can score goals when he starts and when he comes on, he is always dangerous. His performances have been more convincing on the flank than in the middle until now," he concluded.