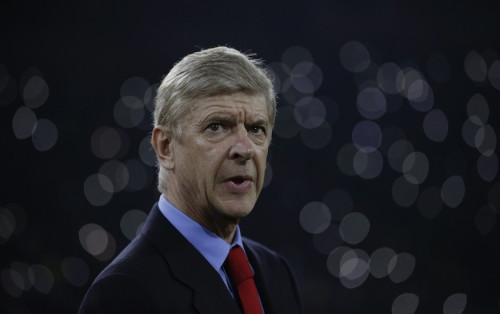 Arsene Wenger has revealed that he is in the market for a striker but insists that the need has being alleviated owing to the imminent return to fitness of Nicklas Bendtner and Yaya Sanogo.
The Gunners have been linked with a loan move for Mirko Vucinic and are also keeping their eyes open for other potential deals which will help their cause as they look to win their first league title in over a decade.
Arsenal are currently top of the table with their 2-0 win over Fulham at the Emirates on Sunday and will be hoping to gather some steam ahead of a potential season deciding period in February and March.
The north London club will face Liverpool, Manchester United and Bayern Munich next month followed by trips to Stamford Bridge and the Goodison Park in March.
Their performance there will determine their position in the league table and with Olivier Giroud misfiring coming into the second half of the season, Wenger will do well to strengthen his personell up front, with Theo Walcott out for the season with a knee ligament injury.
"Ideally if it's possible we'd like another (striker). I give you my phone number, if you find an exceptional (player), you can call me over the weekend. Ideally, though we have not found anyone. We are open to strengthening our squad if it's possible. But as well we have Bendtner back in the squad on Monday. Sanogo is back in the squad on Monday week," Wenger said as quoted by the Mirror.
"But for us, it's important to know everybody can score. Ramsey is a goalscorer and he's not playing at the moment. Arteta can get us a goal and he's not playing. That's very positive, I think. That's the best thing that can happen for us. If you depend on one player then you have to put him in cotton wool to keep him fit," he added.