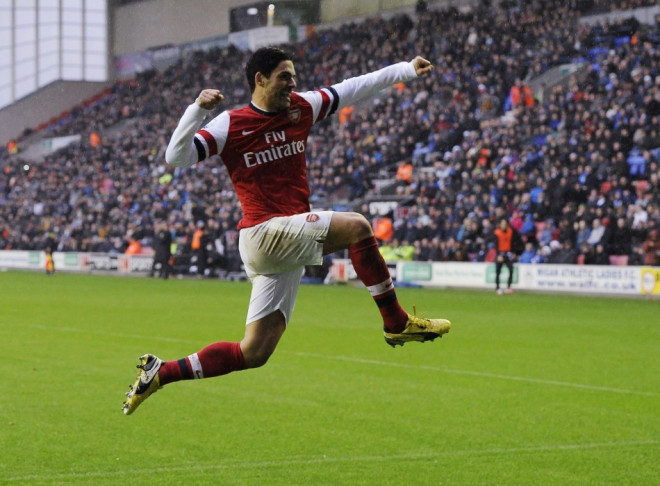 Arsenal captain Mikel Arteta has revealed his disappointment with how his side played against Chelsea but has urged his teammates to react in their next Premier League game against Swansea on Tuesday.
The Gunners conceded four goals in the first half and lost 6-0 at Stamford Bridge on Saturday, leaving them seven points off leaders Chelsea and with little hope of winning the Premier League.
Arteta has apologised to Arsenal supporters and claims that they are going to try to repay them with a victory over Swansea.
"We have to take it on the chin because it's unacceptable to lose another big game like this. You cannot only just move on, you have to analyse what you've done and react. I'm expecting a big reaction on Tuesday because we have to and Saturday was not good enough for this football club," Arteta said told Arsenal's official website.
"The pressure we put on ourselves by losing games like that is massive and there's no need for it. We just disrupted the good season we were having. I don't know what else to say apart from sorry to everyone at the club, the fans, and we promise that we will try hard to put that right. We paid for our own mistakes."
After losing against their top three rivals in the Premier League race, Arteta claims that the defeat to Jose Mourinho's side was even worse than the 6-3 loss to Manchester City or the 5-1 against Liverpool.
"The first one [at Manchester City] you may analyse in a different way, the second one [at Liverpool] was a bit different in the way we conceded the first three goals but on Saturday in my opinion it was worse because it was more our fault. It was when we were in possession of the ball and we knew that we couldn't take risks in certain areas. After 3-0 and with a man down it makes it impossible," the Spaniard said.
"The good thing is we have a lot of things to play for and we've always reacted to disappointments and difficult moments. But this one is a really hard one to take, it was a massive game for us and for me it's unacceptable."
Despite the setback, Arteta will not throw the towel and claims that Arsenal can still win the title.
"This can change at any moment. There are two midweek games again and it can change quickly around. We just need to be there again because if there's any possibilities we have to be able to take it. Let's try again, it's been a difficult day but we need to stay together again and battle because what we can still get is very good."