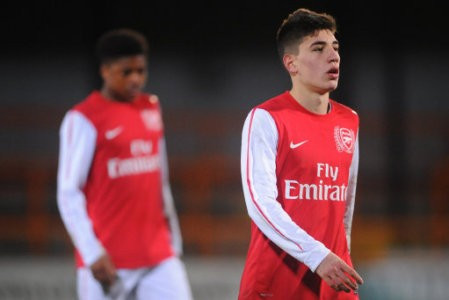 Arsenal captain Mikel Arteta has claimed 19-year-old Hector Bellerin has what it takes to be the Gunners' right-back "for many years".
The Spaniard arrived at the Emirates Stadium in 2011 from the prolific Barcelona youth system, and has since been considered one of the next big players to emerge from the Arsenal academy.
Following Mathieu Debuchy's three-month injury, manager Arsene Wenger handed Bellerin his Champions League debut against Borussia Dortmund last week - while the Spaniard also started during the Capital One Cup defeat to Southampton on Tuesday.
Even though Bellerin has struggled to avoid the Arsenal defeats in both first-team appearances, his compatriot Arteta believes he will thrive at the Emirates Stadium sooner rather than later.
"I think he's a top player," the captain said, according to Arsenal official website.
"He can be the right back of Arsenal for many years in my opinion, provided he gets the chance. Mentally, he handles what is requested to play at the highest level. He's got pace, he's got technique, and he's a very positive guy."
Meanwhile, the Arsenal skipper reveals he has been working as Bellerin's mentor for a while.
"I talk to Hector a lot. He's been around for years and we've been talking to each other for a long time. I know him well because he's taken part in pre-season a few times with us already.
"He's a very confident guy and we treat him as any other player because he's part of our squad. Hopefully he's going to become a top player at the club."
The Spanish teenager, who is a regular for the international under 19 team, made headlines earlier this year when he broke Theo Walcott's and Thierry Henry's sprint records, to become Arsenal fastest ever player.