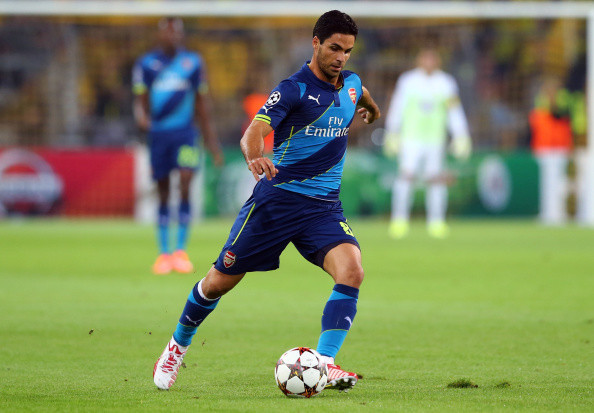 Arsenal captain Mikel Arteta has claimed Mesut Ozil is a much better player when he plays in the number 10 role rather than on the flank.
After a difficult start to the campaign playing on the wing, Arsene Wenger restored the German international to his favoured position against Aston Villa and the former Real Madrid star responded with a consistent performance, opening the scoring and providing Danny Welbeck with an assist for the second goal of the game.
"Everybody knows Mesut is a completely different player when he plays behind the striker. Due to some circumstances he has been playing on the flank but against Aston Villa, playing as a number 10, he looked much happier," Arteta told Catalunya Radio.
The Gunners put the Borussia Dortmund defeat behind them with a comfortable 3-0 victory over Villa on Saturday.
Arteta believes Ozil's role was key to Arsenal's improvement but also hailed Wenger's decision to bolster the midfield with an extra player - with Alex Oxlade Chamberlain playing alongside him in front of the centre-backs.
"Against Dortmund we ended unhappy both for the result and for the performance. We conceded many chances and we tried to correct it during the week," Arteta said.
"Against Villa we did. We played a completely different game. We scored three goals, we dominated the game and barely gave them any chance. We needed that security in the defence. [By playing with two midfielders] we were much more solid because against Dortmund we lost possession many times and that is unacceptable."
Wenger also opted to rest Alexis Sanchez, despite the Chilean international having previously scored two goals in the first four Premier League games.
"Alexis gives us a lot but he didn't make the full pre-season and he has to stop sometimes. He always wants to play, but Wenger decided to rest him" Arteta said.
Meanwhile, Arteta has backed his compatriot Hector Bellerin to thrive at Arsenal after the 19-year-old right-back made his full Champions League debut with the Gunners against Dortmund.
"He will be a great player. He is very fast and a good kid. I think he is on the right track" Arteta concluded.