England star Ian Bell claims a lead over 300 would put his side in the driving seat to register a victory in the fourth Ashes test at Durham.
The home side hold a lead of 202 after the end of the third day's play, with the right-handed batsman still unbeaten after scoring his third century of the series.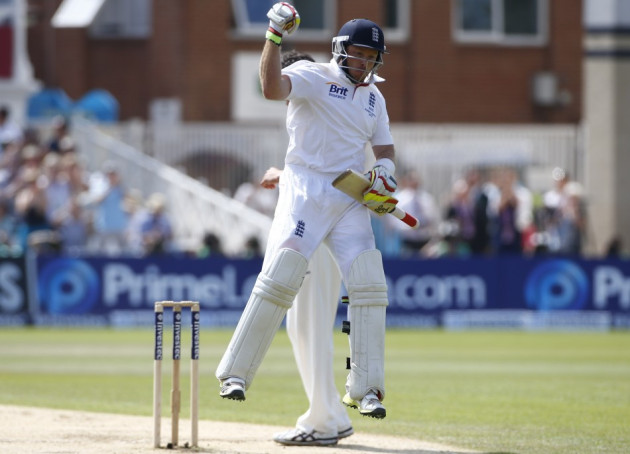 Bell stabilised England's innings on Sunday as he walked to the crease with his team 49/3. The Warwickshire batsman, along with Kevin Pietersen, stood his ground to forge a partnership which delivered 106 runs.
"If we start getting a lead over 300 I'll feel a little more confident, but they will keep coming at us, and some of their batsmen are in a bit of form now. It will be a scrap over the next two days," Bell explained.
"Those 200 runs, I'd rather have them on the board than be chasing them, but we've seen with Australia that they will go all the way. That (first Test) Trent Bridge pitch didn't deteriorate like we thought, and this might be similar," he added.
England's revival with the bat came after Australia struggled to build a first-innings lead in the morning session, losing their last five wickets for 48 runs. However the visitors' paceman Ryan Harris remains optimistic that the game is still well balanced, and is eyeing early wickets on the fourth day.
"The wicket is holding together pretty well; it's not breaking up as much as we thought, so it's pretty evenly poised. We just need to get those wickets as early as we can in the morning and if we can bat well we can chase hopefully something from 250 to 300," Harris said.
Harris is also banking on Shane Watson to return to action on Monday after the Australian all-rounder limped off with a groin strain while bowling in the final session of the third day.
"I don't think it's as bad as we first thought. They were talking about him batting, but we'll see how he pulls up in the morning and go from there. You never want anyone limping off and especially someone like Shane Watson, who's a pretty big player in our team," the paceman stressed.