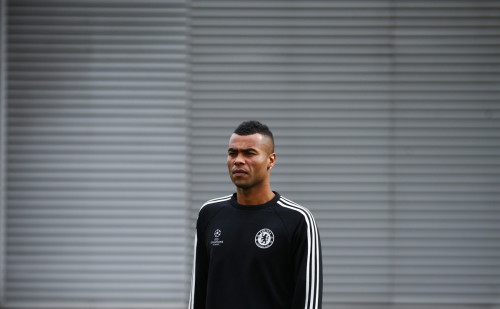 Chelsea left-back Ashley Cole has potentially damaged hopes of winning a new deal at Stamford Bridge by taking a snipe at the playing time given to him by manager Jose Mourinho.
The 33 year old is out of contract along with Frank Lampard and captain John Terry at the end of the season and Mourinho has yet to decide whether to offer the experienced trio new deals as he looked to lower the average age of his squad.
Cole started the FA Cup fourth round win over Stoke City but of late has been deposed by Cesar Azpilicueta at full-back, throwing his long-term future at Chelsea into doubt.
And the England international has further clouded his future after replying to a message on Twitter with a sarcastic comment regarding his playing time.
The Blues defender has a chequered history on Twitter and it is yet to be seen whether he is punished internally for seemingly breaching the club's social media guidelines.
Cole has won eight major honours in as many years at Chelsea and was regarded as one of the club's most consistent performers.
However, given the success of Azpilicueta on the left side and the improvement of Ryan Bertrand, Cole is under pressure at the Bridge.
On the future of the Chelsea trio, Mournho said on Friday: "I agree (with one-year contracts for the over 30) if you live in a climate of trust.
"If you don't live in a climate of trust, it's a situation that can leave the player and the club in a doubtful situation: it's my last year, it's not?
"For the club: is the player running away to another club? When the climate is comfortable, I think it's fine."
"Until January 31, there's no time to think about things that don't worry us.
"Until January 31, we have lots to think about and to do. After that, in a calm way, we are going to analyse. The players know what we feel. No problem."