Football Association chairman David Bernstein has confirmed Chelsea left-back Ashley Cole has made a personal apology for his criticism of the governing body on Twitter.
Following the release of the reasons behind John Terry four-match ban for racially abusing Anton Ferdinand, which questioned the validity of the evidence Cole gave to The FA, the Chelsea and England defender took to the social media site to tweet: "Hahahahaa, well done #fa I lied did I, #BUNCHOFT**TS [sic]"
The incident had threatened to affect his future international opportunities, with the double World Cup qualifiers against San Marino and Poland set to take him to 100 international caps, and Bernstein confirms Cole will be available for the two games.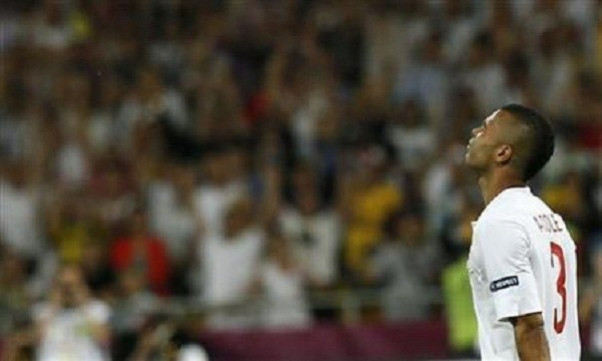 "He apologised immediately on Friday and he came to see me last night and apologised to me personally," says Bernstein.
"He said he was really sorry. He is free to play for England over the coming matches. It is up to the manager to decide whether he plays or not."
Prior to Cole's outburst, there were suggestions the 31 year old would be named as captain on the eve of his 100th England cap, but given the previous misdemeanours of the likes of former skipper John Terry, Bernstein feels it would be a contradiction should the full-back lead his country.
"We've made it clear on previous recent occasions that the standard we expect from our captains are very, very high indeed so I think that's unlikely," he added.
"I'm not going to rule anything out, but unlikely."
The private apology between the two parties follows the confirmation of Cole's misconduct charge, which could see him banned for two games following the tweet last week.
"Chelsea FC's Ashley Cole has been charged by The FA in relation to a Twitter comment which was improper and/or brought the game into disrepute," an FA statement read.
"Cole has until 4pm on Thursday 11 October 2012 to respond to the charge."
Roberto Di Matteo, the Chelsea manager, said Cole would be disciplined internally following the Twitter message, while any action following the findings of the independent commission is yet to be revealed by the Stamford Bridge club.
Former England captain Alan Shearer says he wants to see Cole prevented from playing for his country in the upcoming World Cup qualifier against San Marino.
"I think the FA can put a big statement out here by actually not fining him but actually banning him on Friday against San Marino,'' Shearer told the BBC. "Because we've seen players fined £50,000, £60,000, £70,000. That's not a deterrent to them.
"Stopping them from playing football will be a deterrent. If they do it quickly - which they haven't done in the case, which has taken 14 months - if they do it in four to five days, I think it puts a big statement out to the rest of the players.''