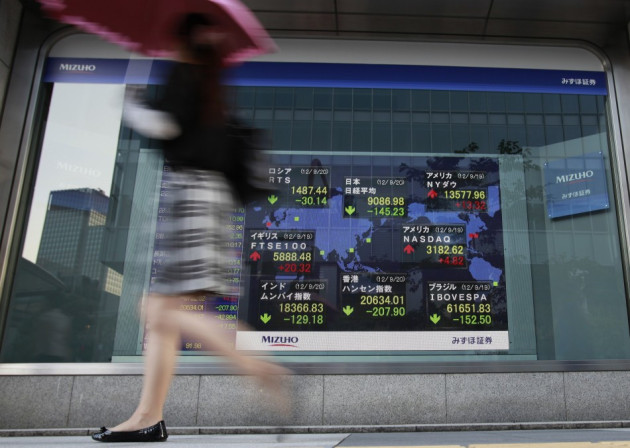 Asian markets have dropped as fears over US corporate earnings along with the continuing eurozone crisis increased concerns over the fate of the global economy.
Japan's Nikkei extended the previous day's losses and was down 1.69 percent or 148.53 points to 8621.06 at 03:56 GMT. South Korea's KOSPI fell 1.18 percent or 23.36 points to 1955.68.
The Chinese and Hong Kong markets also fell, reversing the previous day's gains following monetary injection from the People's Bank of China. The Shanghai Composite Index was lower by 0.57 percent or 12.06 points to 2103.17. The Hang Seng slid 0.56 percent or points to 20820.15.
Investors remain wary after the US markets fell on the previous day on concerns over the upcoming quarterly corporate earnings.
"As we enter reporting season there is a real sense of pessimism around the market with the feeling that earnings will disappoint," said Jason Hughes, Head of Premium Client Management at IG Markets.
"The theory is that poor economic data from lower GDP forecasts and poor PMI data over the last few months will filter through into corporate earnings. In doing so many companies will miss expectations," he added.
Concerns across the Atlantic too continued to impact investor sentiments as the International Monetary Fund (IMF) said that Spain's economy will contract 1.3 percent in the coming year.
Technology firms were down in Tokyo. Sony fell 2.30 percent while Toshiba dropped 4.18 percent. Canon was also lower by 2.31 percent.
Japan's tensions over the territorial dispute with China continue to affect investor mood even though the yen strengthened against the US dollar. The automobile sector slipped following reports of falling sales in China as Honda Motor dropped 1.23 percent while Toyota Motor and Nissan fell 2.00 percent and 0.15 percent.
Steel industry shares were also down. JFE Holdings slid 3.16 percent and Kobe Steel dropped 4.76 percent.
Tech firms were down in South Korea as well. Shares of Samsung Electronics dropped 0.07 percent while those of SK Hynix fell 0.63 percent. But financial firms tumbled the most with Seoul Mutual Savings Bank declining 40.98 percent followed by Jinheung Savings Bank by 30.77 percent.
Metal related firms were down in Shanghai. Lao Feng Xiang dropped 3.03 percent while Chentun Mining dropped 2.67 percent. Earlier, international mining firm Rio Tinto's chief executive Tom Albanese had said that the company would increase spending cuts as the Chinese economy slows down.
Aluminum producer Aluminum Corp of China was down 0.91 percent in Hong Kong as well. But major losers in the index were footwear retailer Belle International, down 2.14 percent, and food products firm Want Want China Holdings, lower by 1.10 percent.